Sunnygeeks 1.5 Fulfillment Progress
Track the progress of the fulfillment of the Gamefound campaign!
Test-Shipments
25 tables shipped during the test shipping phase.
Batch 1
Fulfillment of this batch will mark the shipping of 40% of all orders!
Just Shipped
TBA during Bulk Shipment October 2023

Bulk Shipment (October 2023)
ON TRACK
#, #53391, #53328, #53759, #53357, #53540, #53635, #53706, #, #53416, #53837, #53610, #53411, #54409, #54566, #53894, #53704, #54034, #54438, #, #, #, #, #, #, #54522, #, #54433, #54291, #53327, #, #, #, #, #, #, #, #,#, #54476, #53337, #53793, #54308, #, #,
Bulk Shipment (1/2 November 2023)
ON TRACK #53424, #54580, #53774, #53920, #54226, #54577, #54557, #53369,#53775, #54431, #53902, #54031, #54309, #54436, #53425, #54299, #53401,#54600, #54411, #54432, #53374, #, #, #, #,#,#,
Bulk Shipment (2/2 November 2023)
ON TRACK #, #, #, #, #, #, #, #,#, #, #, #, #, #, #, #,#,#,#,#, #, #, #, #, #, #, #,#,#,
Bulk Shipment (1/2 December 2023)
TBA
Bulk Shipment (2/2 December 2023)
TBA
*Please keep in mind that the following information is based on our current planning. Occasionally, there may be some changes or swaps of order IDs due to adjustments in our workshop capacity and updates.
New Campaign Launching Soon !
Putting the excitement & fun back into tabletop gaming, the Sunnygeeks table is designed from the ground up to offer affordable quality without compromise. The latest in innovative gaming design. A truly modular magnetic table, perfect for all types of gaming while still acting as a modern dining table.
Handmade with 🧡 in Greece
Color Combinations & Leg Style
Advanced DM / GM Station Headquarters & Advanced Player Stations
MARVELLOUS MAGNETIC MODULAR DESIGN
Featuring more than 70 magnets, over 15 accessories that snap into the table drawers & a wealth of extras to add value to each session.
UNPARALLELED PERSPECTIVES
Available in three main colors, with over 12 combinations or Metal & Wood, our deep, recessed playing surface has enough room for any game, complete with a covering of your choice.
ADVANCED CUSTOMIZATION
A tremendous amount of extras with 150+ available setup configurations, this is one of our most feature packed tables yet. From casual games to an epic twilight imperium session, or the perfect d&D night and beyond.
HARD-WEARING RATHSKELLERS QUALITY
Keep your games safe, your drinks off the board and focus on the game.
WATER-RESISTANT TOPPERS
The elegant leaves of your table can protect your game from the elements above. If you're enjoying a fine meal, the water-resistant cover will keep your game safe from harm, so you can pick up where you left off. Just wipe any spillages away and you're good to go!
STORAGE OPTIONS
Table leaves (along with the advanced dm station HQ) can be stored beneath the table. All our toppers can be safely housed in a unique storage box, which provides protection and easy storage for the most spatially challenged of homes.
ONE

DRAWER

TO

RULE

THEM

ALL
The only table allowing you to swap accessories with ease, changing its layout depending on the game, desired functionality & number of players. Each of our toppers snaps into the magnetic drawers, making your table unique & future-proof.
SO YOU CAN ALWAYS HAVE THE RIGHT ACCESSORY FOR THE RIGHT OCCASION
Stains & Legs Styles Combinations
Magnetic & Modular GM station
3 designated spots for your notes
2 jumbo brass cup holders
Plexi screen for wet erase markers
Sliding slots for screens or notes
Ample space for all of your books
Metallic spheres for holding notes
Dm screen with magnets for note taking / display
Plexi Sheets for taking notes
Double Sided Dice Tower : Dm & Player rolls
Suede Microfibre tray for dice rolls
Cup holder for your drinks
Ample space for all your campaign books & notes
Suede Microfibre miniature compartment
Cup holder for your drinks or pencils, markers and stuff.
Main GM reclined area for your tablet, books and plexi sheets.
If you are a long-standing role-player, the SunnyGeeks table is built with you in mind.
The modular design includes options to control and change your DM's playground, giving them a dedicated screen, a spot to display materials, and nameplates to track your location. A range of modular extras that let each player customize their space are also available as add-ons.
Of course, there are the elements that are intangible.
Using the SunnyGeeks lets you realize your fantasy world with markers and names and ensure that the table is configured as you need. With a magnetic backing, your DM screen can help keep track of plot points. The dice tower provides another element of theatricality to your play – with our nameplates doubling as a 'stage door' to let your most fearsome miniatures come out to play.
Whether you're a verbose bard, a min-maxing dungeon crawler, or something in between – the SunnyGeeks table is designed to let you tell tall tales your own way.
This can help create a shared space for communal storytelling. Or a foreboding fortress where you take on the DM. Or if you want to switch up your session you can add mixed media, messaging secrets, and more. We have you covered.
Engineered using Rathskellers Tri-Blend ! A selection of aircraft-graded Birch Plywood (AA superior quality), in cross graining to provide dimensional stability all over the table surface, reduce warping and eliminate expansion and shrinkage due weather conditions, Maple & Beech hardwoods (for looks, strength and graining details), & pressed metal for stability, strength and consistency across all directions. Our Water based two part catalyzed conversion varnish applied to the wood and stain, ensures durability and results in smooth surfaces.
YOUR UNIQUE WOOD + METAL + MAT COLOR COMBO
From three wood stains, Maple, Cherry and Walnut, two metal colors, Black and White, and four Mat/Cushion Colors, Burgundy, Petrol, Grey and Royal Blue, your combo will be truly yours.

12 AVAILABLE COLOR COMBOS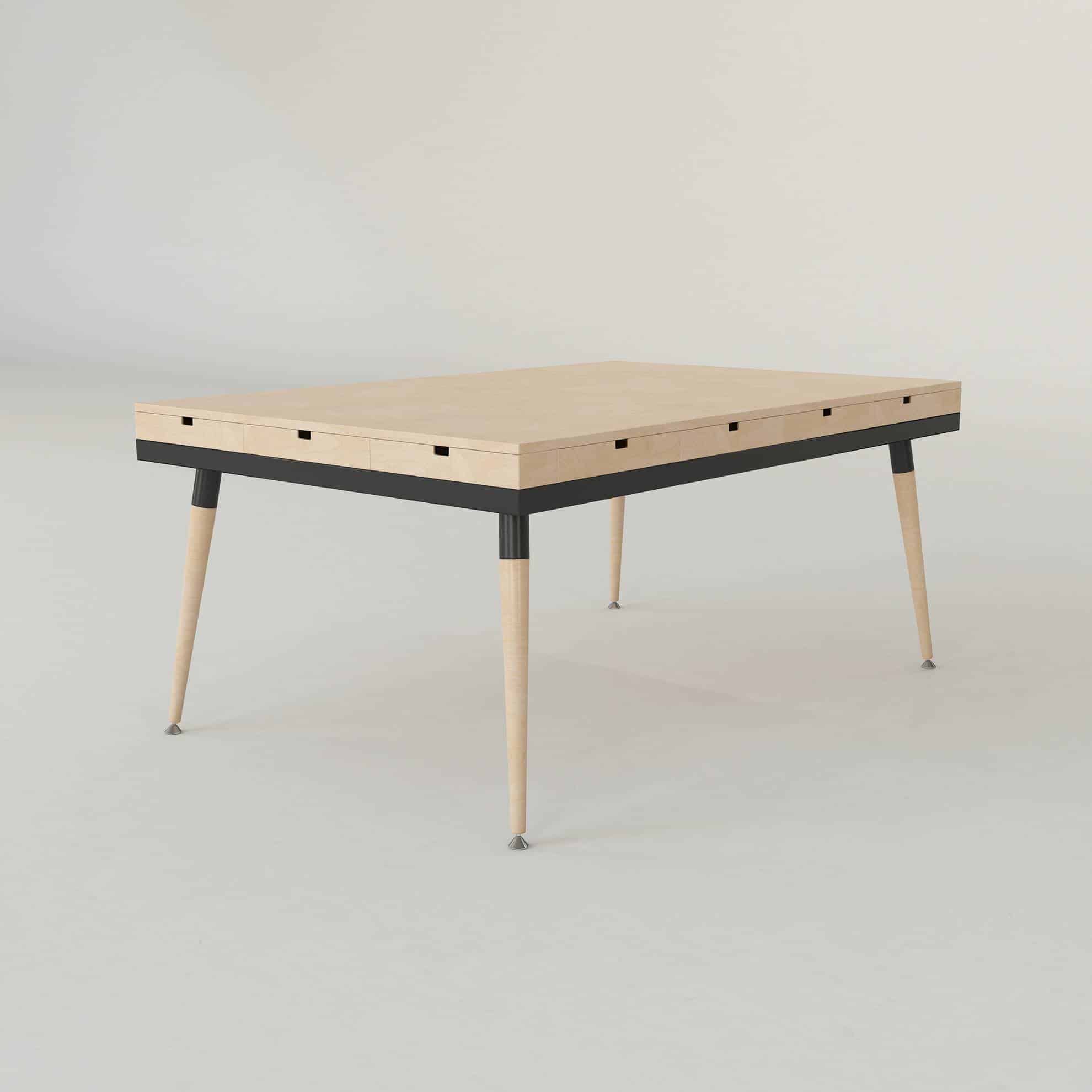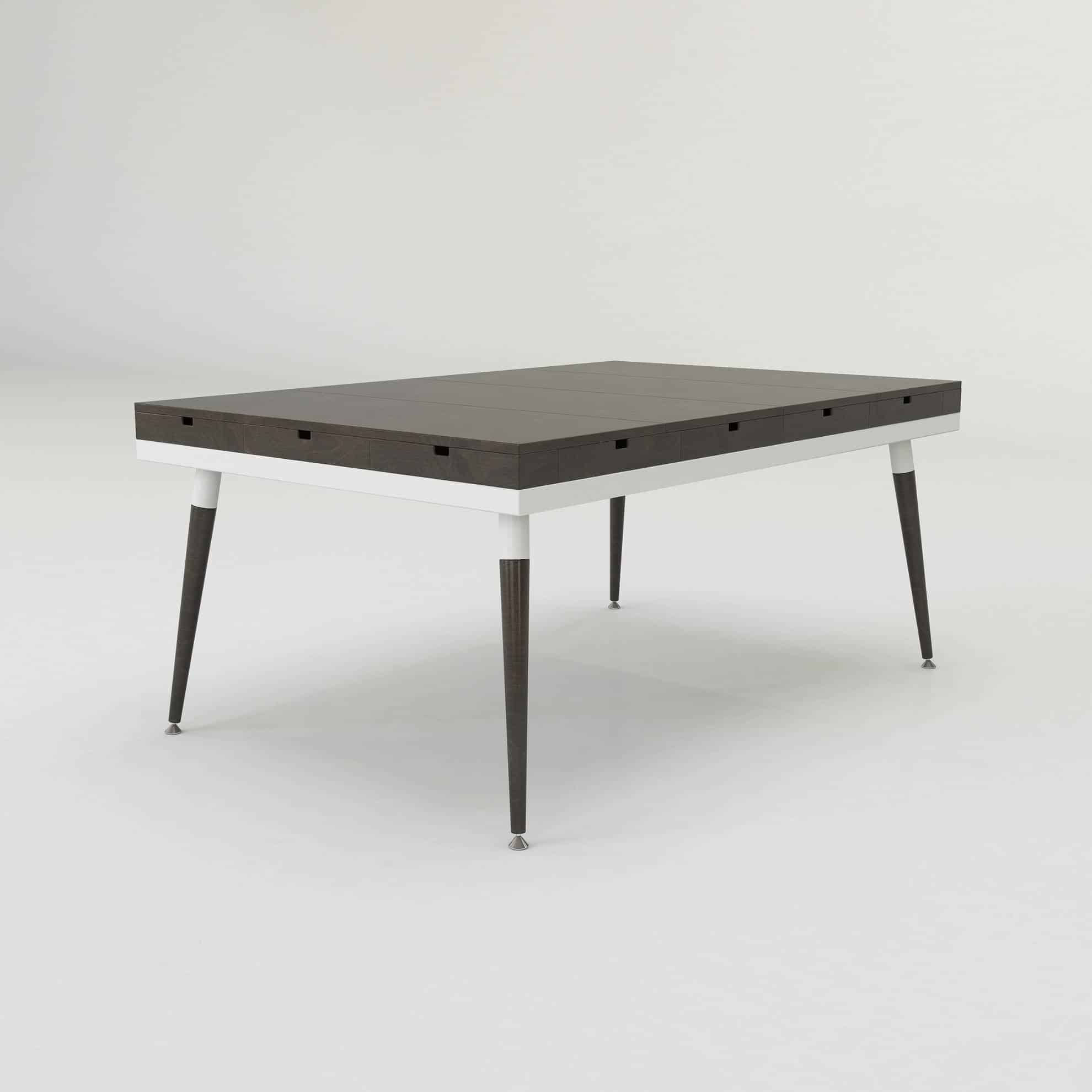 Here you can find answers to a selection of questions.
General information about the dimensions of the table, extras & accessories.
6-8+ Players
Inner (Game Cellar Play area) : 154.4 x 92.4cm
Outer : 182x120cm
Height with Dining Leaves on : 81cm
Height with Dining Leaves off : 79cm
Leg Clearance : 67.5cm
Cellar Depth : 6.5cm
4-6 Players
Inner (Game Cellar Play area) : 132.4 x 74.4cm
Outer : 160x102cm
Height with Dining Leaves on : 81cm
Height with Dining Leaves off : 79cm
Leg Clearance : 67.5cm
Cellar Depth : 6.5cm
Outer dimensions : 39.8 x 10.6cm
Inner dimensions : 38,3 x 9.5cm
Depth : 4.8cm
Cups Diameter:
Normal Cup : 6.8cm
Jumbo Cup : 9cm
Tea/Beer : 8cm
Player Desk :
39.8×24.5cm
Storage Box :
42x30x15cm
Each storage box fits 7 toppers
Player Desk :
39.8×24.5cm
Plex Sheet for DM :
24.5×15.5cm
A selection of questions we've received from our customers regarding the sunnygeeks table.
Absolutely! The SunnyGeeks is designed from the ground up to be built the way you see fit. If you want to optimise storage, player convenience, or comfort; there are several topper options available. These can be added by picking up one of our packages or by browsing our list of accessories.
Each table will be shipped securely via our partners network and arrive in predetermined number of packages based on your level of support. Once delivered, users only have to attach the legs to the structure through a fully detailed, fifteen-minute assembly process. This carries no risk of damage to the table and is simple enough for any individual to follow with ease.
Yes! We will be adding extra elements to the package as our stretch goals are completed. These will range for alternative color options, accessories, and even something truly special if our upper boundary is hit.
Yes! The table's play area is 154.4 x 92.4cm, more than enough to run the most component heavy scenarios in Gloomhaven. And as you can see from our promotional video, you can comfortably fit a beast like Twilight Imperium there too.
Yes! The trench patrol is designed to be a simple way to split your table. This can let you play two games at the same time, separate your playspace between two teams, or organize the table as you see fit.
Depending on your Location you either have VAT (taxes) or Customs charges by your local authorities.
Yes, we ship worldwide, excluding Ukraine, Russia & Brasil
Yes, all of the tables will ship with full insurance.
Everything is handcrafted and shipped from our own Workshop in Greece. We do not outsource.
Depending on where you live. This is a EU friendly project so you won't be paying any custom fees. If you are outside of EU you will be responsible for any custom fees associated with your order. As an example customs taxes for the US can vary from 1-5% of the total depending on the state.
Backers outside of the European Union: NO VAT
European backers : Add 24% to the total price
The prices noted are exclusive of VAT. All EU customers & orders must comply with this. Since this is a Project open for backers Worldwide (US customers for example, don't have to pay the VAT) our aim is to provide a transparent pricing for all. Other companies & developers many times hide the extra cost on the product's price or in the shipping.
That would be the case if we announced a VAT included price. US Customers would pay more than they should (we would be earning a % of the sale dishonestly since we don't have to charge them for it – and it's pretty illegal to do so).
Things have been really strict in the European Union regarding the VAT. They just obligated, crowdfunding especially, for example, to mark all items as pre-orders other than investments.
🇪🇺 EU: 390€-485€
🇪🇺 SCHENGEN AREA: 440€-620€*
🇺🇸 USA: 790€-980€
🇨🇦 CANADA: 840€-1150€
🇬🇧 UK: 460€-640€**
🌎 REST OF THE WORLD: 950+€
🇬🇷 GREECE – 145€ or Free (Local Pickup with your own vehicle from our workshop in Thessaloniki)
* SCHENGEN AREA : Switzerland, Ireland, Liechtenstein, Norway, Iceland
** FOR UK BACKERS : Due to Brexit Shipping Carriers are charging a premium for Customs Clearance
The SunnyGeeks table is designed to offer maximum flexibility and choice at an affordable price point. With 2 size options, our biggest offering table's generous space weighing in with 182x120cm exterior and with a 154.4 x92.4cm play area, can house any game (even space-hungry games like Gloomhaven). This allows it to comfortably fit 8 players – using the trench patrol to partition off your space.

Combining size and functionality, the SunnyGeeks table is the biggest crowdfunded gaming table to be offered. The unit is designed to be a perfect addition to any home – with Rathskeller's extensive experience in home design making it a work of art…that you can play Memoir 44 on.

It includes the ability to add new technology such as charging stations, magnetics, and modular surfaces (our team knows the importance of having an authentic wooden surface). Each drawer easily snaps to either side of the cellar's border, making it effortless to expand or refine your playground.
Below you can find videos with the progress we are making crafting the Sunnygeeks Gaming table. For the latest updates visit our youtube channel and social media
Reviews from Customers all over the globe
---
37 Customer(s) recommended this item
Reviewed by 38 customer(s)
This is a love letter

Two years ago I stumbled across an Instagram post from Rathskellers showing off a concept for a "customizable affordable gaming table".

This was the beginning of a story. I was only in the hobby for about 1,5 years and had never played on a board game table. I knew they existed, I knew that Rathskellers was supposed to be the BMW of the industry but I also knew they for very expensive. When I heard the new model "affordable", I was instantly caught.

When the first campaign finally started on Rathskeller's own platform, I was one of the first backers. It was more expensive than expected to be honest, as the definition of affordable is quite wide I'd say. But nevertheless I was sitting in front of my laptop half an hour before it started with my credit hard in my shaking hands. I knew I'd manage to afford it somehow. Over the campaign I sent tranches of money because I wasn't able to pay all at once. I ended up spending a few months of my total income as a student on the table and then the waiting began. I was able to chose my own configuration without any of my personal wishes unfilled.

In march 2021 it finally arrived. After countless occasions where I got on the nerves of the lovely people of Rathskellers, I never managed to get an unfriendly answer out of them. Every inquiry was always answerd nicely and polite. And despite the long journey from Greece to Germany the table arrived savely without any damages. Packaging was sturdy enough for the journey and it only took a couple of days. Of course, there are more difficult journeys (overseas for example), but for my part, everything worked out perfectly.

Almost 1 and a half years later I'm still so happy having invested such an amount of money into this piece of furniture. Is it perfect? No it is not. But Rathskellers listens to feedback. The third campaign offers shorter legs, they introduced baby stops so the drawers cannot fall of the short sides of the table easily. I still have minor complaints that I'm going to mention here: The neoprene mats have a vignette effect. On my grey playmat it does look really nice. On my double sided mat (burgundy / petrol) it looks dirty and my guests always ask if I spilled anything on them. Now I spend money on a playmat I avoid using. It is not very resilient when it comes to scratches. I'm super careful but I do have scratches on the table leaves.

For every little flaw there are two things that are lovely. The table is extremely beautiful and special. The design with the wooden lags is fantastic and there are tons of wonderful color combinations. The cushion toppers are simply the best accessory possible. The token holders can also be used to hold the ressource stock a game has. The player stations are really cool and used very often for a lot of games. You can even use two next to each other for more space! The table leaves are stored unter the table and if you are a tiny bit careful you will never hurt your knees and they don't need any additional space I don't have in my small students apartement.

A gaming table like this is a complicated product. Not everything works. You cannot use a trench patrol with two table leaves. You have to be careful your neighbor doesn't peek in your cards if you have one on the long sides of the table and use the card holder toppers. But honestly, I very rarely play with multiple players on one side. The glew on the rubber corners of the toppers (which were added after feedback – very nice!) could be better. You might have to glew them back on the toppers. If you lean heavily on the long side of the table it pushes the cellar wall a tiny bit onto the table. Not much. Millimeters.

These small issues will not reduce my quality rating. It is a 9 out of 10 for me. But as I could only do 4 out 5 here, which is to low, it is definitely a 5 out of 5, minor flaws aside. It's like rating a board game. Just One has so few rules and components, it is not much of a target. But most of us love complex board games. I will always prefer to have a complex and innovative product over something perfect and flawless.

Just this morning when I came out of my bedroom and entered the living room I thought once again: Jesus. Is this a beautiful piece of furniture. I'm so glad I chose to support and managed to afford this table and that I joined the lovely community the people of Rathskellers have built.

I love my table, it is almost perfect

I love my table….it's beautiful, it's master craftmanship, made with love and passion.

I fell in love with the rathskeller tablets when I participated in a demo at Spiel 16, in Essen, Germany. These guys demoed the tablet with such passion, that I, like many others, just wanted to throw my money at them. However at that time, they did not have any "budget" tables.

Years later, when I got a bit more spare and not more savings, this table showed up on KS.

I got the large table from the KS and a lot of accessories and now I have a setup for any game. I play anything from a quick roll and write to the massive Gloomhaven on the table, well in the table, as I store the game in the gameceller between game nights.

Currently, it is setup for a game of Above and Below next Tuesday.

Everyone who comes over to play, love the table as I do.

The table is my centerpiece and I have tried to built my livingroom around it.

I think, this is the best table I have comes across. It's quality all the way, I can set it up any way I like and for any game in my collection.

I can't recommend this table enough.

I will end this review with my idea to make the table even better

I will make the table totally perfect by getting the straight leg, as I can't fit 6 chairs in with the angled legs. I will get the shorter legs, as the table a bit too high when dining with my family.

Looking forward to play a lot of games in the years to come 😁

Solid Build with an Eye on the Future

By far the most solid piece of furniture I've ever owned, to be certain. This table feels like it will last a very, very long time. What I'm most looking forward to is the release of new products & upgrades for the table in the future. I'm really hoping for a trestle leg option, though shorter legs would be much appreciated in the short run. It's a bit fiddly to have to set up and take down all the toppers before and after every game, but the modularity is a very unique feature in comparison to other board game tables on the market. There are minor issues here and there, but nothing that makes the table not worth the effort. If what you want is a modular system with more options and upgrades in the future, this table can't be beat.

One Table to Rule Them All

Listen, I GET IT. Finding the jackpot of gaming tables is a nightmare. There's a handful of copy-cat "Kickstarter" tables that look like a couple 2x4s slapped together, a few high-end options with high-end starting prices that don't even include the gaming components, and just about nothing in-between. That poker table on Facebook marketplace is starting to sound "good enough" but you'll always be wanting more.

Rathskellers changed that.

This is the table you'll be proud of for a lifetime. I purchased the Large Table in Walnut with 6 chairs, a GM Station, and 4 storage boxes with 28 toppers to fill em:
– 6 cushion
– 6 cushion/cupholders
– 4 card & counter toppers (4-slot)
– 4 card & counter toppers (2-slot)
– 4 card & pen toppers
– 2 Mug Holders
– 1 Jail Topper
– 1 Triple Cup Holder

…2 trench patrols, 5 player stations, brass cupholder upgrades, and wooden angled legs. Tack on shipping to Hawaii and yeah, it cost me an arm and a leg, but I have absolutely no regrets, and know I still got a solid value when compared to other options, both low and high end.

Since purchasing this table, I've hosted several D&D sessions, card and board game nights with neighbors, friends, and family, and took dinner off the couch and brought it back to the table. Whether we're building legos, painting minis, or setting up laptops to work from home, this table has become the focal point of our home and connections with those around us.

So what's so great about it? #1 is the QUALITY. Every piece is strong, light, and well crafted. Whether we're quickly swapping our toppers, dividing up the play space, or covering up the cellar with the table leaves, you'll feel assured that this is a premium product. My wife loves how it looks as a dinner table, especially once we throw on some fake plants and table settings. Me? I love the way my friends instinctively settle in and set up their space with cushions and cup holders, while their eyes light up with enthusiasm to gather around the table and play.

Most used pieces:
– The Trench Patrols: I use one for every D&D session, and almost always two for card games, so that we can set up dining leaves on the side for food. They reeeeally come in hand for craft or lego nights, since they keep those small pieces from rolling away
– Cushions!: They are SUPER soft. I really like the ones that are partially cup holders, but use both.
– Advanced Player Stations: Almost everyone brings their laptop for our D&D sessions.
– GM Station: It's the best.
– The chairs. I loveeee the chairs. They're surprisingly comfy and really bring it all together.

Rarely used pieces:
– Card & Counter toppers: Maybe it's just the games we play! In many of our card games, you don't want to reveal your deck, and having them lined up in the topper slots gives a chance your neighbor may peak over. My trick is to put the topper on the inside wall angled off the corners, or just make sure no one is sitting next to you!

Nit Picky Stuff:
– My wife is 4'10", so the table is just a touch too tall for her to eat comfortable. We took off the bottom metal pieces and replaces them with a thin felt bottom to lower the table an inch. I'd take the option for slightly shorter legs by default with the ability to raise back to the standard.,
– Shipping to America isn't very reassuring. Not Rathskeller's fault. In fact, their customer service is top-notch and they were very involved in the process. TNT/Fedex just has a terrible tracking system and will make you sweat a bit. But in the end, everything arrived in perfect condition.
– Brass cupholders will tarnish, which I didn't think about when ordering! I need to take better care of them after sessions of them being exposed to skin oils and soda condensation, else they'll keep getting black marks. Oops!

What I want as a returning backer:
– The new cellar walls with lights look really cool. Not necessary, but feels like a true upgrade to the original product
– The side table could really come in handy! All of my extra toppers are stored in boxes on a shelf. An open-face was to grab-n-go with different toppers will be appreciated, as well as having storage for the player stations. 2-stacked on top of each other as a rolling cart isn't something that fixes any issues I currently face, but will be a nice addition!
– Shorter legs? My own solution has worked, but I'm not against a manufactured solution.

Final Thoughts:
– Rathskellers has championed this table. Customer feedback has quickly led to bonus options such as different leg sizes, the way they handle packing & shipping, and even adding the tiiiiniest little stoppers and rubber gaskets to help steady and silence the clattering of wood on wood. They give off a strong sense that will support this product for the long haul. As a returning backer, I'm nervous to spend another pretty penny on additional upgrades, mostly because the current state of the world has caused a ton of inflation, but I know those feeling with be as fleeting as ever once my purchases arrive. If you're backing this project, I recommend being patient on delivery and active in the Discord community. The wait is worth it.

Such an epic piece of furniture

One of the last pre-backer tables came to Slovakia! Let us tell you what we think now that we've had it a bit.

We have a large size table, but since it's for our living room, we also got the coffee-table-height legs for it. We tried those out recently and it was interesting. First we had to teach our two toddlers not to climb on the table while it was so low (It was VERY tempting for them. Thankfully, table withstood these shenanigans.) We found that the coffee-table-height is very good as a coffee table, but also for the kid's Carrera Go circuit 🙂 Still, it's a bit difficult to get them from underneath the table when they are trying to escape you 😀

We've gone back to the tall legs for now, gaming and especially jigsaw puzzling is much easier that way. We had a bit of trouble with the height of the table while closed, we tried mounting our sofa on higher legs and we also got higher dining chairs. Those proved the best solution, although we didn't want to lose the sofa, so we're still trying to come up with some solution for that. We include a beauty shot of the table with a Marvel United game set up and of laying the mat, which fits perfectly. Trench patrols have been nice too. Since we have the cutest moral support of all time (see picture of mounting the legs), the baby stoppers have been a godsend. We've had a few of the drawers pushed to the ground by curious hands (thankfully, nothing happened to the drawers or the kids).

One thing we would love for our table to have are toppers that fit together snugly without the rubber seal visible. It would feel much smoother, and we wouldn't have to vacuum crumbs from there so often. Our kids shed them or something.

We mounted a table lamp on one side of the table at some point, so we can play when our kids sleep in the next room (vintage glass doors, you see). Very nice for jigsaw puzzles, too.

Overall, the table is very well made, your customer support is great and we can't wait to try the new led lighting!

A perfect fit for me

I wanted a gaming table for a while, and the Sunnygeeks really checked all the boxes for me.

Mostly, its modularity makes it a perfect table in most situations :

Being able to switch the number and position of drawers makes it suitable from 1 to 6 players (we haven't tried more but it could probably host up to 8 players)
-Thanks to the trench patrol you can even split the table in two for different games at the same time
-The different toppers allow for a variety of configurations depending on your preference, or game components
-The advanced player stations are ideal for character sheets or dashboards
-The advanced DM station is a must for tabletop RPG
-The cellar being removable is also really useful if you want to expand your game area for large boards/map
-And of course the leaves that can be used for having dinner without putting away your ongoing game, or gain some time during a busy gaming night by setting up two games in advance, one in the cellar and one on top of the leaves.
-They also offer visual customization with several options of legs style, wood stain, metal paint, cushions and neoprene mat color thus making it easy to adapt the look of your table to your existing room/furniture.
-And all of that is realized with excellent craftsmanship and materials, and comes packaged with extreme care to withstand the dangers of international shipping. (And in case something should go wrong during shipping, you can count on Rathskellers to take care of you)

The wood is beautiful and so soft, the legs are sturdy, and the table as a whole screams quality.
Sure, that quality has a cost, but I found it reasonable compared to the other options available out there, that don't come close in terms of possibilities.

The one downside of modularity, is that there are a LOT of different pieces : drawers, toppers, DM station.
Being made of wood that can expand or retract due to external conditions like heat or humidity, sometimes those pieces might not fit perfectly to the mm but I haven't encountered any major issue with that.

And of course they take a lot of storage space when not in use, but fortunately they also offer storage solutions, like the leaves storage under the table, or the storage boxes for toppers.

In addition to making a really great impression (several friends are now considering getting their own Sunnygeeks) the table really adds to the gaming experience and has made our sessions more enjoyable.

As a bonus point, the team is also always available for questions or suggestions, and has been communicating transparently on the whole process (I was a pre backer and have been following the project from well before the first kickstarter campaign)

My Dream Table!

I've always wanted a gaming table, and the Sunny Geek Modular Table does not disappoint! I participated in the kickstarter and received a very affordable deal, even with crazy international shipping that is the hallmark of the COVID era. The only complaint I have at all is that the table took about a half dozen packages arriving over about as many weeks! Not Rathskellers fault, more to do with customs and UPS, but it was torture waiting for everything to get there so I could put it together!

Setup was very easy and straightforward. There were helpful videos, too, which ran through the process. I was able to do all the assembly myself, just needed an extra hand to move the bigger pieces into our game space. Done in about 30 minutes.

Feature-wise, the table itself is very flexible in design and I've really taken advantage of the different build options. I am so happy to have a table with a topper so I can keep a long-term game going without having to tear down everything if it takes a couple weeks between gaming sessions. I bought the DM and player stations and it worked amazingly well! Really a different experience than the standard setup and enhanced our fun. And, of course, the ability to add or move the drawers and customize toppers helped to make sure we had the right setup for the games we played.

As for the quality of the table, it is very well made. The real wood is absolutely gorgeous and it makes an impression on all my players.

All-in-all I highly recommend this table! It is super adaptable and makes your furniture a true part of the games you play.

Yes i would do it again

My english is too poor to make a good review… So, you can read my review in French. Sorry for what i tried to write in english.

I pledged the medium table.

In a few words :
– delivery : perfect package. Everything was in a perfect condition.
– Production : two small problems. A magnet on the DM master kit and an other with one screw of one leg. Not a big deal. The magnet just had to be glued. No solution for the leg.
– modularity : exactly what they promised. It's just crazy how the table can adapt to every game you want to play.
– quality : it's just what i dreamed. Gorgeous.
– production updates : we had a lot of updates after the campaign and the team was really honest about the production and (small) delays.

In conclusion : if i had to pledge again, i would do it for sure. My only regret is that i could not have the largest table in my home to be mode confortable when playing the biggest games.

En français :

J'ai pledgé la table moyenne, n'ayant pas la place pour le grand modèle chez moi. En revanche je me suis fais plaisir sur les accessoires.

Production : rien a dire, ils ont été honnêtes et ont donné de nombreuses updates pour nous tenir au courant de l'avancement de la production. Le retard a été léger compte tenu du projet. Hyper satisfait.

Livraison : le colis est arrivé bien abîmé mais grâce à leur emballage incroyable, la table est arrivée sans la moindre éraflure. C'est pas la livraison la plus écolo mais faut avouer que compte tenu du prix de l'ensemble… je suis plutôt content.

Qualité : Deux petits défauts a signaler sur ma table. Le premier, un aimant du kit de maître de jeu s'est décollé à la première utilisation. Il a suffit de le recoller, rien de bien grave. Le second plus problématique concerne les petits pieds ajustant la hauteur de la table. L'un d'eux avait un soucis au niveau des trous de percage des vis. J'ai quand même réussi à le fixer mais partiellement. La table est installée et il n'y a eu aucun soucis depuis donc tout va bien. En revanche, je n'ai pas eu de solution proposée par l'équipe lorsque je les ai contacté.

Qualité globale : je suis bluffé par la qualité des matériaux, du design global et par la modularité. La promesse de la campagne est respectée ! La table est sublime, hyper pratique, vraiment pensée par des joueurs pour des joueurs.
Mon seul regret c'est de ne pas avoir pu prendre le grand modèle. Sur certains jeux, on est vraiment à la limite limite si on veut utiliser les petits plateaux qui s'installent sur deux casiers (Star Wars Rébellion, Endeavor nouvelle edition…). Et les topper sont tellement confortables et la modularité tellement bien foutue que ma femme transforme la table en bureau pour préparer sa classe.

Le kit du maître de jeu : Ça c'était vraiment le craquage total, mais là vache c'est hyper bien. Pour chipoter, les rebords de la partie tour à dés sont un peu trop petit et il peut arriver que les dés s'échappent. Mais bon, c'est vraiment pour chipoter.

Bilan : si je savais tout ça, est ce que je pledgerai encore ? Oui sans hésitation ! C'était un gros caprice de geek, mais ça en valait la peine. J'attends la nouvelle campagne avec impatience.

My Sunnygeeks Experience

I've owned the Rathskellers Sunnygeeks for about half a year now and I'm absolutely in love with the table. With this review, I would like to take you through the process of acquiring this fine piece of craftsmanship. Feel free to skip to the parts that are of interest to you!

Why I picked the Sunnygeeks

When I decided to take the next step in my more and more prevalent hobbies of board games and pen & paper roleplaying games I informed myself about tables on the market and as luck would have it the first Kickstarter for the Sunnygeeks was announced right around that time. I had compared the various features you could get and the table had a lot to offer. While there were some extravagant features other tables offered that the Sunnygeeks was missing at the time (one of them being lighting, which is offered with the Sunnygeeks 1.5) what really sold me on the table were the exchangeable toppers and magnetic drawers. Almost every other table I found used a rail system to attach trays and other accessories to the sides of the table. While I can't speak from experience the idea always rubbed me the wrong way. I feared that players would constantly be running into them or accidently pull them of when standing up to go to the loo or get snacks. Especially during long pen & paper sessions people become less careful over time. So I loved the idea, that the drawers stood firm on the table. Also at the time this table appeared to be the only one that offered a dedicated GM-Station for pen & paper and I'm not going to lie, I might have drooled a little when I first saw it. I've since seen Kickstarters for tables that included a GM-Station, but as far as I've seen, none of them could compare in terms of features offered. So I decided to try my luck with Rathskellers.

The campaign and fulfillment

Now, if I wanted to find something to criticize, I could say that fulfillment took longer than originally planned during the Kickstarter campaign. However, that is barely surprising. Delays usually happen during these kind of things and you have to consider that there were material shortages and a global shipping crisis due to Covid happening. With that in mind, only half a year of delay is actually a pretty good result. I've backed far less complex projects that took way longer to fulfill, so a little patience comes with the territory. What made the wait more bearable was the good communication of Rathskellers. I've joined their Discord-Server for the project and people could always ask questions and were kept up to date. What impressed me was their willingness to improve while fulfillment was happening. When prebackers got their tables, some noticed that the toppers were a little loose inside the drawers and that drawers could slide off the sides of the table. Rathskellers addressed and fixed these issues with help of the community during fulfillment. Now you get stoppers for the drawers and the toppers are tight fits thanks to rubber corners added to them. When I received my table these fixes were already included, no upcharge. Rathskellers also didn't raise costs when the market price for wood skyrocketed. Overall, I always felt informed. Rathskellers are people pleasers and sometimes made bold statements regarding ETA's, but they were always there to help and listened to the community. Lastly, while I didn't personally experience issues with shipping or minor damages when the table arrived, if that was the case for some people on the Discord-Server Rathskellers always addressed these issues immediately and helped people to sort them out.

The day of arrival

Oh, how fondly I think back to it. Like my birthday and Christmas aligned on the same day. I live in Germany and the table was delivered by TNT. It is a HEAVY piece of equipment and I live on the 5th floor, no elevator. Don't be stupid like me kids, get someone to help you carry it. But once that hurdle was taken, the rest was surprisingly easy. Everything was well and tightly packed. Assembling the table was very easy to do. I think I spent more time with the chairs than with the basic setup. I ordered a lot of add ons so it took a while to store those. The amount of packaging I had to dispose of was insane, but it was all to make sure the table arrived safely.

Being a Sunnygeeks owner

If you have read my review so far, you might already be guessing that I am a pretty happy customer. The table improved game night immensely. Everything is very sturdy and well put together und the variability is amazing. I'm playing Gloomhaven with friends on it once a week. I also have regular game nights with other games and of course pen & paper sessions held on the table. I can fit the table however I need it. I hosted New Year's Eve in my apartment and never had such a large dinner table and once we were all stuffed I removed the dining toppers and we could start playing games. As I already stated I purchased a lot of add ons and this way I feel I can always get the right customization for every game. We were able to play comfortably on the large table with 8 players. Often we also use a smaller setup where we keep part of the table covered and use the space for snacks and boxes. For pen & paper I use a setup with 5 player stations plus the GM-station. There is so much to talk about with this table. If you consider buying a board game table, here are some pros and cons to consider about the Sunnygeeks.

Pros:
– Well-crafted and sturdy table
– Lots of customization options and room to accommodate pretty much any game
– Toppers instead of Rails
– Everything easy to exchange thanks to magnets (How do they work? Nobody knows)
– Very versatile GM-Station for Pen & Paper players
– Great customer support, open communication, everything feels very close up and personal
– Future support and additions (like the campaign 1.5)
– … and a lot more

Cons:
– Waiting for the table. If you are backing a crowdfunding campaign, you need to be patient. This isn't amazon next day delivery.
– Price. The table is an investment and it is not for everybody. However if you love board games and/or pen & paper and want to take your game to the next level, this is how you do it.
– Some rubber corners of the toppers might loosen after some use. However, they can easily be glued back on.

I put the cons in perspective because really: I love the table. It was well worth the wait and investment and reattaching some rubber corners really isn't a big deal to me. After this first half year, the Sunnygeeks has brought me and my game groups nothing but joy. I want to thank Rathskellers for this amazing product and hope for many more game nights to come. As I stated: If you enjoy board games and/or pen & paper and are ready to make the investment this table is a great choice. I wouldn't want to trade it for anything I've seen before or since.

P.S. please excuse any errors that might have occurred during writing, English isn't my native language, but I tried 😉

Good - Better - Rathskeller

I have the table about 9 months now and played several sessions. To make it short I love it! 🙂

Biggest plus is the customization with all the toppers. Setting up a game became a fun new experience itself. Thinking about the best layout and constellation of the toppers and trays.

Look and feel of the wood and felt pads is great. It's heavier as one would guess from the pictures. The Magnets are strong.

Rathskellers customer service is superb. Had a reclamation and it got handled fast and satisfactory.

THE Gaming Table

I got this table on the 10th of December 2021 with 6 chairs and is basically the best decision I ever made (in the board gaming world 😀 )

TL:DR: The table is just great, it is prepared to meet most of anyones needs. Chairs awesome, they fit most of the heights and are super conformable. Rethskellers, you won't have problems with them, but if you have they will respond!

Where to start….

The table is huge, and can accommodate the biggest game out there (if it doesn't fit in the cellar you can always use the full table for that super big game!), and the modularity is just nuts, I have some of the bits toppers and the bigger ones ( the ones that need 2 spaces to fit) and I don't miss an opportunity to use them. Not all of them are useful in all situations, but with some of the different options you will have a topper that meets your needs on any situation.

And the chairs, i want to sit on them all the time, i'm thinking on moving my workspace to the gaming table just for how comfortable they are. I have used them with a wide variety of persons (different heights and different weights) and all of them agree on the same, they are just perfect. I can stay a looooooooong session (5h-6h) and I don't have the need to stand up. The distance from my legs to the table is great, you don't hit with the cellar or the toppers when they are stored below the table, and the arms rest confortable on the cushion toppers for a perfect view of the gaming space.

I have also to say that Rathskellers customer service is just top notch (I'm confident on comparing them with Chip Theory Games), customers saw some flaws on the first tables that came with the early birds and they where fast to fix them for users of the first KS (baby stops and the thing to keep the toppers on place). And the packaging is so protective that event the worst deliver company will have a hard time causing damage to the table.

The only flaw I see is that if you are playing alone you will have to stand up to reach the other site of the table or even if you are playing 2 players one in front of the other (each one on the long side of the table) still you need help from the other payer to reach the other side of the table.

The table which brought me and my wife back to board gaming

My wife and I lost interest in board gaming somewhere in the early 2000th. All of our gaming friends are much more into pen&paper RPGs than board gaming and in the early 2000th, there were not so many board games out there with a good 2 player experience. So we stopped buying and playing board games almost entirely.

We always had an eye on those shiny gaming table. Unfortunately, they i not meet out expectations. The build quality was great, but we were missing modularity. We don't like the railing system most table have. On top of that, pen&paper player want to have their character sheets in front of them. So when we saw the first crowdfunding campaign of the Sunnygeeks, it was a game changer for us.

The table has everything we wanted from a gaming table. Different setups. A great GM stations and each player can have a player station, which has enough space for character sheets or a tablet/laptop. And it provides enough space to put tons of miniatures on the table for those detailed battles we love.

We got our table at the 18. of August 2021. I remember that date, because it is the birthday of my wife. What a nice birthday present. The setup went like a breeze. We only had to put the legs on the table and flip it over. We had worries, because of the weight of the table but me and my wife could flip it over easily.

And with the table, we started to look into board gaming again. We haven't bought any board game in over a decade. You can imagine how much we were surprised how the board game market has evolved. And now, we dedicated our entire living room to gaming 😀 Every free space is occupied by shelves with board games and pen&paper RPGs. We play a board game almost daily.

Thanks to the Sunnygeeks, board games has replaced our daily TV shows we watched. It is a better way to spend your evenings 🙂

The build quality is great. Everything fits nicely together and it looks great. We had some trouble with build tolerances, but they were quickly solved with the support of Rathskellers.

The gaming cellar is deep enough to keep games in while eating dinner on top of the table (which is important during looong gaming nights).

I like the drawers around the table a lot. Much space to store stuff in (for us, it is mainly sleeves, dices and zip bags). The toppers (the lid for the drawers) has a ton of possible configurations. With cushions, with cup holders, card holders, holders for dice, tokens and so on. There are tons of different toppers to chose from. And that's why we are happy about the next campaign. We need some more toppers 🙂

There is only a small caveat I have. When reaching across the table (we have the large sized table), you are pushing the railing of the cellar slightly inside. It is held by magnets and they do a great job, but they are heavily challenged when a full body weight is pushing against them. It is not a big issue, but I thought I need to mention it. That's the price of modularity I guess. But it is not a big deal at all 🙂

What you need to consider is, that the surface of the table is rather high due to the cellar. My wife is not the tallest person and when we use the table for dining, she is sitting on an extra thick cushion. The hight of the table is adjustable, but it will be always slightly higher than your usual dining table.

I can recommend the table. I would buy it certainly again. And I am thinking about getting a second one as a couch table. But that's something I need to discuss with my wife. She is the more reasonable one 😉

Why you NEED a Board Game Table!

Well, get 1 assumption out of the way. I'm assuming you are a board game aficionado. An enthusiast. A hobbyist. Why else would you be interested in investing in a board game table. If you are not; If you only play a game of Monopoly or Risk once a year during the holidays; Then you absolute do NOT need a board game table.

But, assuming that you do enjoy the hobby, be it board games, card games, or RPGs, then, yes, you probably should start saving for a board game table today! Some people put money away every month for a vacation. You, should start putting your money away for a board game table.

Why? Why wouldn't you rather get a shiny new deluxe edition of a giant miniatures games on kickstarter? Or invest in fancy organizers to keep your setup and tear down to a minimum? Or pay a premium for that absolute must-have game that is top of the hotness? Well, it's quite simple. All of these things will give you a great play experience, but, when you put the box on your shelf and you want to inevitably play a different game, they won't be doing anything. They'll just sit there. Waiting for the next time to be played.

A table is different. It has the power to enhance every game you play. Some enhancements are subtle. Others are completely transformative. Ultimately, a table can't make a bad game good, but it can make each play experience more enjoyable.

There are a few simple features in the vast majority of board game tables that are immediately gripping. First of all, they should have a raised edge around the playing space. This is to prevent any components from being knocked off the table – unless it's a particularly aggressive dexterity game. This prevents that awkward pause in the action to find a die that rolled off the table, or the dreaded "great condition but missing…" ailment. Don't worry. We've all been there.

Another important feature is a soft surface. This might be felt, leather, or in the Sunnygeeks case, a neoprene mat (think a giant mouse pad). Why is this important you ask? Well, if you are an enthusiast and you've been playing on a hard surface, you have inevitably had the great test of patience that is to try and pick up a particularly stubborn card. It might need to be slid off the table, or you might have to lick your finger to get a grip (which in our Post-COVID world just seems much grosser than it did when I was a wee lad). A soft bottom, especially neoprene, compresses. So you can push your finger under the card. Every time. No hassle. It might sound simple, but it is a life changer. Now, this soft surface also provides another benefit, and that is of providing a sharp contrasted background. Counters shouldn't be lost or forgotten, even beige chits from that snooty old Euro game all of us old curmudgeons still play beause it sticks out from the surface. It makes cleaning up that much easier.

Now most tables will also provide cupholders to prevent spills and protect your components. And let's not forget about when you're done with a session, but don't want to clean up. Not everyone has the luxury of not having little creatures that run through the house only to chew on any loose piece of cardboard they find. These creatures I call children can really be destructive. So, a table top can be placed to hide the cellar away, and it can be used for other tabley goodness. Like eating. Or writing. Or playing another board game because you didn't want to take down that giant campaign of Gloomhaven that is set up underneath so you need another place to play.

I have been shopping and saving for nearly 15 years. I almost decided to build my own, but then, I discovered the Sunnygeeks. This looked like the table of my dreams. I've had it for over a month now, and in that time, I have played dozens of games along with DnD. I think I have a pretty good grasp as to why it's a phenomenal table, and a few places it falls a little short.

First of all, it has cushioned raised edges. I cannot express how soft these cushions are, but to quote my 5 year old boy when he first got to touch them, "They're sooooo SQUISHY!" It genuinely is a pleasure to rest your arms on the table. It is comfortable and puts you in a position with better posture to allow for extra long gaming sessions without breaking your back. It's really nice, and it is a huge feature.

Let's not forget that these cushions are lying on top of drawers. Drawers that can be used to store your frequently used commodities. Those might be metal coins, counter holders, card games, dice, what have you. It's great and I find myself pulling out my metal coins and little glass bowels far more often than I did when they were stored away from the table.

The ability for the drawers to be moved anywhere instantly and the toppers can be switched out in a matter of seconds also brings the versatility of the Sunnygeeks to a whopping 11/10. Playing a game with a hand of cards and lots of little counters; Use the card/counter topper. Playing a roll and write; Use the player station. Playing any generic board game; You can't go wrong with soft cushions. I am a huge fan of how fast and easy it is to swap out toppers – but, this comes with a caveat. I have a ledge going around my basement that is used for… well nothing. But now it has become my topper storage. That means they're always an arms reach away, so it is quick and instant. But if you are buying lots of toppers, you've got to think about storage. Where are you going to keep them? If room is tight, it might not be worth it to get a variety of toppers and you may want to just stick with the cushions and cupholders. Food for thought.

The DM Station also holds a special place in my heart. It looks beautiful, it's super customizable, and really easy to set up (after you've done it once or twice). It has the trap of any screen where you sometimes want to look over it, but it's so easy to grab a portion of the screen and just plop it down mid-session, that I found myself constantly going back and forth, depending on what was happening. Did I want to build intrigue, mystery, and tension. Up goes the screen. Did I want to have a more laid back moment of reprieve, down go the screen on one side where I would then house the miniatures we were using. It allows for any DM to modify it to the way they see fit. The initiative tracker it comes with is also simple and neat – however – I really think they should provide 2! 5 tiles may not be enough for the average fight, and I like to place them where the screens connect to lock them in place, so 2 initiative tracks to allow for battles to include up to 10 participants and lock the whole screen is well worth having. I'll definitely be adding a second to my order!

As for general build quality, well, we live in an age where everything is built to be disposed of. From clothing to furniture to electronics, nothing is built to last. And why would it be. It's cheaper to make, cheaper to sell, and then consumers buy more. Rathskellers kicks this philosophy right in the rear end and has built something that really is built to last. I expect to pass this down to my children… though they might have to tear it from my cold dead fingers before I let it go. It is built like a tank. I may still be in the honeymoon phase with my table, but I can confidently say that the Sunnygeeks is not only the best table I have ever played on, but the best piece of furniture I have ever owned. Hands down. It's not even close. Everything else feels so cheap now in comparison. And the finish and look is just top notch.
The packaging was also super durable and protective. It looked like my table was ran over by a truck. It had holes in the cardboard and the box was half destroyed while coming across the globe to my small town in Canada. But miraculously, my table came out flawless due to Rathskellers foresight and care. I will say, one drawer was damaged by what looks like a forklift that drove into the side of one of the boxes and forced a drawer down into another drawer, but Rathskellers promptly sent me a new one free of charge. Thanks!

Now, not everything is sunshine and rainbows. I have a few nitpicks. The trench patrol seems useful, but when placed on with the DM screen, it takes up room and does not allow for three full drawers on the sides of the table. As a result, I don't think I will ever use the trench patrol again. The dice tower when used in the DM screen was not my favourite. I found the dice to fly out a little too quickly. I love it between two drawers, but, I won't be using it in the DM screen. I mentioned the storage problem for multiple toppers, the initiative tracker that is just too small, and let's not ignore the price. This is a serious investment. It's not the cheapest board game table, but it also is far from cheap.

TL;DR – I love my Sunnygeeks table. It is the best piece of furniture I have ever owned. It is built to last, comfortable in a way I didn't think tables could be, and absolutely versatile and customizable to whatever game you are playing. It has enhanced every gaming session I have hosted since I've gotten it, and I am eager to play more.

Perfect for gaming - Not so perfect for dining or working

I do love my new table. I mainly use it for gaming (RPG and boardgames). I do like the modularity and especially the GM-Station. There are a lot of good reviews here, that describe the positive aspects of this extraordinary table. So I will focus on the issues I have when using it on a dailey base and often switching between gaming and dining and working.

The problems I have come strictly from the Dining-Aspect. When using the table leaves the table ist too high. Even when setting the legs to the lowest setting. Especially when using the table in homeoffice and working several hours on it, it is just too uncomfortable.

As a solution, we do not use the table leaves and we remove everything that ist removeable to just use the base plate (the legs of the table are in lowest setting). We would appreciate, if you could easily adjust the height of the legs (like a height adjustable desk), or if the table leaves could be placed directly on the base plate.

There are some minor issues too:
The rubber-thingies, that hold the toppers in place feel like a band aid. They don't stick and are just anoying.
The player stations wiggle. So I added some foam rubber to it.

All in all, the table is really nice. Especially when you strictly use it for gaming and use the flexibility to adopt to different gaming issues. If you have to use ist as a diningtable, too or have to work several hours with table leaves ontop, it just is not ergonomic. I hope, the new tablelegs will improve this.

Awesome table!

Our table arrived a week ago and is now finally assembled and ready to go. Everything arrived in one piece here in Germany, no problems with TNT.

Awesome table 🤩 Now we just need a storage solution – can't wait to see details about that storage bench solution 😁

A table i never want to miss again!

Mein Partner und ich wollten unseren bisherigen Esstisch schon länger ersetzen. Da fiel mir die Kickstarter Aktion von Rathskeller in die Augen und ich war sofort von dem Design und den vielen Möglichkeiten begeistert. Ich hab mir natürlich auch andere Hersteller angesehen, fand aber deren Designs nicht ansprechend oder ihre Preise völlig astronomisch. Ich hab mich für Rathskeller entschieden, weil der Preis sehr gut zur Qualität gepasst hat und weil die Tische in Europa gefertigt werden. Während der Kampagne auf Kickstarter haben sie immer super informiert, was ein sehr hohes Vertrauen geschaffen hat.

Das einige, was nicht perfekt geklappt hat, war die Lieferung – der Spediteur stand plötzlich vor der Tür ohne vorher einen Termin mit uns ausgemacht zu haben. Dafür konnte Rathskeller jedoch nichts, und der Lieferant war auch so nett, erst nochmal eine andere Lieferung auszufahren und dann zurück zu kommen als ich Zeit hatte.
Den Tisch zusammen zu setzen war spielend einfach und mit den Stellschrauben an den Beinen konnte ich den Tisch so einstellen, dass unsere alten Stühle wunderbar darunter passen.
Ich hatte anfangs Sorge, dass die Tischplatten möglicherweise schnell verkratzen. Diese Sorge war völlig unbegründet. Das Holz ist so erstklassig und ganz hervorragend verarbeitet, dass selbst jetzt, nach einem halben Jahr regulärem Gebrauch, nicht die kleinste Spur der Benutzung zu erkennen ist.

——

My partner and I have wanted to replace our previous dining table for a long time. Rathskeller's Kickstarter campaign caught my eye and I was immediately impressed by the design and the many possibilities. Of course, I also looked at other manufacturers, but found their designs unappealing or their prices completely astronomical. I chose Rathskellers because the price matched the quality very well and because the tables are made in Europe. During the campaign on Kickstarter, they always provided great information, which created a very high level of trust.

The one thing that didn't go perfectly was the delivery – the carrier suddenly showed up at the door without having made an appointment with us beforehand. However, Rathskeller was not responsible for that, and the supplier was also nice enough to first make another delivery and then come back when I had time.

Putting the table together was a breeze and with the adjusting screws on the legs I was able to adjust the table so that our old chairs fit perfectly underneath.

At first I was worried that the table tops might get scratched quickly. This concern was completely unfounded. The wood is of such first-class quality and extremely well-made that even now, after six months of regular use, not the slightest trace of use can be seen.

Sunnygeeks gaming table.... the BEST!!!!

So so happy with our table!!! It's awesome and fits our new Bardsung game which is enormous.

We have tons of toppers, it's so hard to pick a configuration, we change all the time!!! We bought 4 boxes to keep our toppers in tip top shape… and you can fit 2 boxes and 2 advanced player station in a Kallax (IKEA) square. We also got the GM station headquarters with the dice tower. Our dice are truly dizzy, lol!!!

We get compliment all the time, that's when we're not playing 😉

Thank you Rathskellers, this is one wicked epic gaming table!!!!!

Fantastic table by a fantastic team.

Quick info:
Ordered on kickstarter Dec 16th 2020
Initial delivery completed Feb 15th 2022
Working with Rathskellers to replace items damaged in shipping could *NOT* have been any easier
Final delivery completed March 14th 2022
WOULD order again
WILL be ordering more accessories

First and foremost, I can't say enough good things about the Rathskellers team. During my campaign they were hit with COVID-19, the Suez Canal, COVID-19 again, the international shipping debacle, and who knows what else, but still successfully delivered a fine product to users while thoroughly communicating throughout the process. Due to all these events, the orders were significantly delayed, and had they been any less professional about handling those delays I may have cancelled my order. But their constant communication, honesty, and flexibility kept me in the game and now that I've had the table for a couple months I'm in love. We use it for D&D a lot, and other games occasionally, and dinner often enough. One of my biggest concerns was the under table leaf storage, and they are indeed completely out of the way. My legs and feet never hit them. All the pieces are very solid and durable, and feel like they can stand up even to occasional toddler level abuse. Certainly no issues with regular adult use.

No review is complete without some critiques, but I must emphasize that none of these combined are worth taking away a star. I stand by my five star rating.

Our biggest issue using the table is we bought a LOT of toppers (and then they gave us MORE for free), so we have trouble storing them all, even with the 4 boxes of topper storage we bought. Finding the right topper quickly can be a chore. We also had some trouble buying suitable chairs. Because the table sits a little higher than normal with the toppers on, we needed 19″ chairs and had to work to find them. Most chairs are 18″.

Well worth the wait

The global shipping crisis delayed things a lot, and it was delivered in pieces, but once they all got here I was ecstatic.

It looked better than I imagined and adds so much to the gaming experience. We use it every week on our Twitch show !

Awesome gaming table with lots of PROS and a few CONS

PROS:
Modularity – this is the key feature of the table. You can setup your gaming table according to each and every games needs. Player count of 6 is no problem at all, everybody gets his very own toppers and can decide wheter to have card slots, cup holders or just the super soft cushion toppers.
Quality wood – Although it is "just" glued laminated timber the overall impression of the wood is just stunning. The finish is super soft to touch, although resistant and feels like a high quality product.
Size – I own the large table, and the size is just perfect for any game from 2 to 6 players. Depending on the arm length it may happen, that some people wont reach every part of the table from their sitting position, but with the help of other players (moving pieces for other players), everybody will enjoy any game.
Rathskellers service – I had an issue with the wodden legs, and decided to switch to metal legs after all. The service and replacement of the parts went smoothly, without additional costs (just shipping back the wooden legs). Customers are really KING at Rathskellers. Thanks again for that!

CONS:
Rubber corners of the toppers – they were meant to keep the wooden toppers in place when attached to the drawers. Basically a super feature. Sadly they fall off, and I have to put them back in place frequently. Maybe another glueing method in the production process would help out.
Total heigth with the table leaves on – for a regular dining table this is slightly too high. But in my case – I use this table for dining only a few times per year – this is okay.
Children vs. table – This is a super light issue. I have kids (8 and 2) and they cause the modular drawers to move, when sitting (and climbing) at the table. This is just because kids are not easy to teach, that this is not a massive table, but a modular one, with moving elements, that only hold together with magnets. It happened twice, that a kid pushed a drawer from the table to the floor. Luckily these drawers are quite well build, and no damage occured.

Amazing purchase for our home.

Wood and components compliment our kitchen and its parts hide under the leafs well too.

The table came professionally packaged more so than anything else I've ever bought. Nothing damaged at all. Components went together great, and were so happy with it. It works great for all out gaming and the DM station is the chef's kiss. Strong magnets, great wood, sturdy construction.

 

The BEST gaming table out there!

I fell in love with this table back in 2020 when I came across it online during lockdown and received my medium beauty just over a year ago. So many options and ways to customise the gaming experience according to what's being played or people's individual needs! I've sadly had a hiatus of using her as my conservatory has been demolished and replaced with a (soon to be finished) extension which has been built entirely around the table and my games as a prime gaming space. Can't wait to put her back together and get gaming again!

An awesome table!

The table looks wonderful and is extremely well made. The delivery was completely hassle-free and the components were excellently and safely packed.

The table is very flexible and versatile. The wood is of high quality. The table is also very solid and stable.

There are only two minor points that I do not like so much.
1. we also bought the matching chairs and they are too low for the table. This is especially true when the plates are on top of the table (for eating).

2. the metal parts under the table, with which you can stow and store the plates, are quite sharp. They create scratches on the surface of the plates if you are not very careful.

Overall, this table is absolutely awesome and it's great value for money!

Best investment ever.

I'm truly a board game addict and enthusiast.

Up until now I backed 220+ board game projects on KS and I own close to 400 games. I got the sunny geek table during the 1.0 campaign and to this day it remains my best investment ever. The table is super comfortable, customizable, it makes every gaming session 1000 times better. It is also an eye candy, it's simply beautiful and will fit perfectly any space (be it gamer cave or not :)). We've played all sorts of games on it and thus far found note one that would not fit (including twilight imperium and gloomhaven).

The drawers are a hit, we adjust them depending on the amount of players we have and game we play. I recommend this table to every gamer out there! I can't wait for the next campaign to get more goodies.

Happy Gamer.

Due to Covid the table arrived late autumn last year. It's come into It's own this year as I have had a few people round to experience it & a full board game weekend featuring Journeys through Middle Earth. It was a huge success & the table is loved by all. Whether it be RPG's or Board Games.

Love our Table

We recieved our table in October 2021

After month of playing/dining on it they are not much things we don't love. We regnet not buying the chairs along with the table…but that's what the second kickstarter will be good for, right? 🙂
The Table is big enough for any game you can imagine. It's not only good for Board Games but for a good Poker night too.

This table is just perfect!

I waited years to get a gaming table - glad I dont need to wait anymore

As I am into the board game hobby for a long time, I always wanted to have a respective table. As I was a student I couldn't afford it long time. Looking on several kickstarters of different brands I was always on the edge on jumping on the hypetrain but never did. Untill sunnygeeks 1.0 back in the days.

Since backing the table and getting it was a bigger timeframe (which you should expect from kickstarter campaigns anyways) I was surprised when it finally arrived. Very well packaged, easy to set up and just glorious. I love my table and also my girlfriend is really happy with this (a bit massive) beauty in our living room. We use it for gaming (obviously) but also having dinner with friends. It all works out and I don't want to miss it.

I absolutely recommend this table and as for the price (can't speak for taxes/shipping, but for Germany it was a bit on top, which is normal). The quality is great. The experience is great. The look is great. The flexibility is great.

There are some minor complains but nothing serious, but to be transparent here they are:

The biggest issue we have is with the not perfectly sized drawers. As they are handmade, they are tiny variations in millimeters. Because of this, there are small gaps on each sides between the drawers, also because of this the rubber corners of the toppers get loose overtime as they dont fit perfectly and some toppers are "too big" (or the drawer is "too small" – as said it is about millimeters.). You can fix this with some instant glue.
Also if you never sit on a table of this hight, you will be surprised, if you really eat on it. It's higher than you are used to, but you also get used to it (or you get higher chairs).

So that's it. Do recommend. Hope pictures help. Also there is no discussion in taking the exact combination we have (brown-wood+red+brass).

Great concept for a table but with some flaws that cause regular issues.

The materials and build quality are top notch, which I would expect for the price but there are a few critical design flaws that prevent this table and concept from being flawless. Using the wrist rest to store components is amazing along with being able to move them around or swap out tops for your needs. However there are some things that come up during normal use that causes regular annoyances for myself and all of my guests.
-The magnets, key to the whole modular system, are not as strong as they need to be, If someone learns too much on the arm rest it pushes the whole cellar wall inwards or if they learn back with their arm on the cushioned drawer they often pull the drawer back with them. The pulling the drawers away can be fixed by having someone 3D print 18 drawer stoppers but there is no model yet for a stopper to prevent the drawers (and subsequently cellar wall) from being pushed in.
-There is also a gap the total width of a pencil for the drawers on the side, which is just enough to make it so they annoyingly slide side to side when resting your arms on them.
-There are rubber feet on the corners of the cushion toppers that are only held on by double sided tape. As a result these frequently fall off when opening the drawers.
-You have to take every topper of the drawers to put the table top leaves on. there should have been a riser that lifted raised the table top just enough to allow for the table top to sit on top of them.

Overall, I definitely feel like an early adopter with all the mixed feelings that come with that. Its a super cool concept for a table that's great to works when it works but there's some oversights that really take away from it and prevent me from recommending it to most people.

Unmatched Modularity

Several years into the hobby, this is now my fourth gaming table at home and I think I have found the perfect blend.

What caught my attention initially was the idea of a gaming table that is build from the ground up with modularity in mind. Where every piece can be moved, replaced, and repurposed in an instant, down to the very basic frame of the structure. Have a thirsty gaming group? Put on some more cup holders. Got instead a heavy-weight game with many components? Put on more card and token holders and maybe an enlarged player station. A relaxed card game with your spouse? Just use the soft arm rests for comfort. And the list just goes on, having options for every occasion, be it RPG sessions or just dinner with the family.

This idea and design brings so many benefits, like the easy of replacing parts or the potential to extend the features of the table in the future with more and more extras, that integrate well and don't look shoehorned in. You are investing not just in a single table, but rather a living piece of furniture.

Now, all those advantages have to come with some natural compromises. To allow this level of flexibility, the table makes heavy use of magnets to hold things together. This also means that pieces have wiggle-room, they can move, shift, etc. and are not as stable compared to a table that is screwed tight. Modules are manufactured individually and may not align exactly to the millimeter.

However, and this is a big one, during the last year Rathskellers was in very close contact with us customers and provided fast solutions for many of the small issues that came up in that iteration of the Sunnygeeks. They are very active on their social media channels, extremely interactive with the customers and fans, and the personal e-mail support I had with them was by far the best one I ever experienced with any company. Fast replies and meaningful solutions to inquiries. Thumbs up for that!

So in conclusion, the Sunnygeeks is the near-perfect table for my personal needs and I look forward to the next campaign to see what extras they got in store this time!

My first board game table

I have been dreaming of owning a board game table since my first visit to Essen Spiel more than ten years ago. But it always seemed like an impossible dream. It felt like an unnecessary luxury item and it seemed like investing that kind of money in games would be a much better choice. Was I wrong…
First, there are only so many games one needs in a collection (I know some will disagree). And second, this table enhances *every* game, if, for nothing else, I can stop whenever I want. I don't live in a prominent enough place to have a dedicated gaming room where I could have my game on the table whenever I want. This table allowed me to play more.
So, how do I use it?
1. I can offload setting up and breaking down games outside of my "gaming time". Again, this is a problem of not having a dedicated playing space.
2. I started playing much more solo games. I found out that I can have half of the table in dining mode (I have the large table) and half in gaming mode. That way, my partner and I have enough space to eat, and I can have my game set to play a round or two solo, depending on how much time I have. Games like Too Many Bones, Nemo's War or even the first missions of Darkest Dungeon 2 fit perfectly on a half of a table.
3. Drink are welcome again near my games. With a normal table, there was always a risk of someone tipping their glass over and spilling the liquid all over the game. This is no longer the case since cups (I have the larger version) keep drinks secure.
4. My back doesn't hurt anymore! I am 186 and most of the furniture is a bit too low for me to sit without slouching. An unexpected side effect of having a 6 cm larger table is that I can now sit upright while eating. You would be surprised how much of a life-changer that is. My partner who is much shorter than me started enjoying sitting on a pillow to get a bit more of a height 🙂
5. Gaming feels so premium. This was expected. Being able to lean in towards games and rest comfortably on velvet toppers is so nice (I have the drawers plus cushy toppers combo). Also, dexterity games and building legos became much more comfortable (no more lost pieces).

Now onto the Sunnygeeks table itself:
1. The packaging is superb and the table came in pristine condition. I live in northern Germany, and except for the table arriving 5 mins before me needing to leave for Essen Spiel (what timing!), everything was great. You will need at least two people to bring the table in. It is heavy.
2. Assembly was super easy, again needing two people. Also, consider letting the table open in order for the varnish smell to disappear.
3. Table is high quality. It is heavy, stylish and fits into a modern home design (I have the walnut option with wooden legs). It is stable in place (I hate when tables are shaky). The neoprene mat is perfectly cut, and I like that it is stained a bit. Velvet toppers are soft and deep enough. Also, despite being in the open for months, they are easy to clean.
There are a few "but"s and things that I found disappointing: The toppers received a last-minute rubber upgrade to make them not clunky and fit nicely in place. It was a free upgrade thus I shouldn't really complain. One thing I hope that will change with the upcoming campaign is the glue they used to stick the rubbers. The rubbers started to peel off very quickly and I glued them again with glue recommended by the manufacturer. And they have again peeled off. Again, it was a free upgrade, so I shouldn't complain.
The second thing I have an issue with is how easily the table scratches and bumps. After 8 months of using it, the dining area of my table is having quite some scratches just by putting dishes on it. I use coasters for glasses, but still. Also, a few bumps have left dents. To be honest, I was expecting the table to be a bit more scratch-resistant. I would need to polish and varnish it again at some point. This could be a result of reading some much about the quality and prestige of the manufacturer and thus my expectations being super high. This is the reason I have deducted one star.

All in all, I am very happy with my purchase and I am happy I bought the table. Gaming is a big part of my life and this is one single upgrade that makes me do my hobby more. Definitely would recommend it!
Ivan Petkovic

Happy German Customer =)

Kurz gesagt – wir sind sehr glücklich mit unserem Tisch, ein Traum wurde wahr – Vielen Dank ans Rathskellers-Team!

Lieferung: Unser Tisch wurde in der 1. Welle ausgeliefert und kam sehr gut verpackt und unbeschädigt mit der Spedition an. Nach dem Öffnen und Sortieren der ganzen Pakete begann der Aufbau, der dank zuvor übermittelten Anleitung schnell von sich ging. Leider wurden 2 essentielle Gewindestangen zur Fußmontage nicht mitgeliefert, woraufhin ich sofort Rathskeller via Discord/eMail kontaktierte.
Support: Der Support war großartig – in Rekordzeit wurde mir per Expresslieferung die fehlenden Teile nachgeliefert, sodass ich nur kurz darauf den Tisch fertig aufbauen konnte.

Der Tisch: Der Tisch (hier der Große) ist sehr gut verarbeitet, stabil und verspricht die Modularität aus der Kampagne. Egal, ob man nur den halben Tisch benötigt, die restliche Fläche mit den Deckplatten abdeckt oder diese unter dem Tisch verstaut um seinen Dungeon aufzubauen, der Platz ist riesig. Partyspiele zu 8. – kein Problem, Gloomhaven – kein Problem, zwei verschiedene Spiele durch die einsetzbare Abtrennung – kein Problem! Die variabel nutzbaren Aufsätze (Topper) lassen sich perfekt an das für jeden Spieler gewünschte Setup anpassen. Die Laden können genauso flexibel eingesetzt werden und dank Magnete bleiben sie schön am Tischrand. Da Holz ein lebender Rohstoff ist, kann es schon vorkommen, dass nicht alles 100% "gerade" ist bzw. zwischen den Laden etwas Freiraum bleibt, dies bringt aber diese Modularität mit sich.

Zubehör: Die Neoprenmatte, der Mikrofasersamt, die Messingbecher, alles erinnert an den letzten Casinobesuch =) Zur Aufbewahrung der Aufsätze haben wir zwei passgenaue Holzboxen mitbestellt, in denen alles sicher untergebracht wird. Die Gamemasterstation bietet alles, was sich ein Dungeonmaster wünschen kann. Vom Platz, über einem doppelten Würfelturm bis hin zu variabel einstellbaren Screens sowie einer magnetischer Pinnwand für Notizen.

Community: Den Zusammenhalt, die Hilfsbereitschaft sowie die Leidenschaft spürt man sofort. Ob Ideen zur Weiterentwicklung, diversen DoItYourself-Upgrades sowie nützliche Teile kann man dort finden, zB. die Laden-Stopper – damit die Laden nicht über die äußeren Tischränder hinausfahren können.

Fazit: Es ist ein Premiumtisch, der kaum Wünsche offen lässt. Der Preis kann abschrecken – aber es zahlt sich für jeden Brettspieler aus!

Small price, full gaming table

To understand what to expect and why I'm rating things like I did I'll give you a quick summary of why and what I chose. I will point out some Pro's and Con's and will end with a conclusion who should buy this table.

You can find a tldr; at the end of the review.

Where I'm coming from:
I was looking for a gaming table for a long time and since I just came back to boardgames in 2018 I didn't want to spend a fortune on a piece of furniture which might not been used for long. In 2019 I fell in love with the Rathskellers 'The Phalanx', but unfortunately this was out of my price range. I wanted a table which can be used as a dinig table as well as a boardgame table. We have two little kids and four cats which make it impossible to let stuff laying around. Therefore I wanted definetly a table which I can close with toppers. In 2020 I found a youtube video on a board game channel which was reviewing the Sunnygeeks by Rathskellers and I was interested because of its modularity and it's low entry price. As mentioned I wanted a large table which can easily fit 6+ people no matter if dinig or playing games. I started to read a bit about the table on the kickstarter page and decided to get in for a large table in a basic configuration. I wanted to 'test' and see what I'm going to miss while using the table every day.

My configuration:

– Large table, cherry stain, straight black metal legs
– 12 drawers (essential pack)
– 12 toppers (essential pack) (6x cushion, 6x cusion/cup holder)
– upgrade to jumbo cupholders
– trench patrol
– leave storage, mounted under the table

Pro/Con:

Pro's:
– high modularity, setup every game as you like
– quality of the components, the wood feels smooth and the stain is brilliant
– easy to assemble, unwrap and screw a few screws into the table that's it
– customer service, from customer oriented support to implementation of community feedback(including free upgrades/swap) Rathskellers set a high level of customer support.

Con's:
– the toppers move a little bit which could open gaps for spilled water, etc.
– the table is higher than a normal one (about 5cm) this could be problematic with smaller kids
– modularity, the pure amount of addons which are available can confuse you what to choose

Conclusion:

Overall this is a perfect table to start from. If you are looking for something you can adapt to your wish and be able to change games or you are new/returning to board games and looking for an entry level table at a good price – you've found it. With its many addons YOU decide how your table looks. With two types of legs and two stains plus the natural color to choose from it will fit in almost every room. If you already have a gaming table or you are looking for the next level and have saved a bit of money you should definetly also have a look for the other available models.

tldr;
You should get this table if you are looking for an 'entry level' table with great quality components at a good price.

Best table ever

I saw the table in Essen before launch and i was already in love with it. I have received it more than a year ago and i still can't believe how beautiful it is.

Quality is amazing (the only issue is the drawers that slide a bit but i know it's been fixed), the choice of toppers allow to adapt to any game and it fits any game (more space demanding i have so far i believe to be Everdell with all the expansions).

For the price the quality is really outstanding and i am so excited to see what the new accessories will be to make my table even more perfect.

Table Review (Table version 1.0, early backer)

So I finally got my table just over a week ago! And I wanted to share my thoughts / experience with those who are waiting for theirs since I know how frustrating it is to just patiently wait months for the most awesome purchase you've ever made!

It's very long I know, just wanted to give as much detail as possible!

The delivery

Shipping was insanely fast. Just one week for the packages to hit customs here in the US. It arrived in customs on a Friday, and unfortunately I don't think they get much done here during the weekend because no progress occurred until Monday morning. It took until Wednesday to get my first delivery and luckily it was the table, the legs, the vault and the dining toppers so I was able to set it up! I received all 8 packages over a 3 day span. DHL did an excellent job. All boxes were in perfect condition, and they were brought into my living room by the delivery driver. I also had to pay a $40 fee to customs, be sure to be on the lookout for that email because you will get it as soon as the item arrives at the shipping facility and if you pay quickly enough it has a chance to make it onto the delivery truck that same day! (If you receive the notification early enough)

The setup

Super simple. Screw in the 4 legs with the provided screws / tools, and same with the leaf holders. Takes only a few minutes. And definitely requires the help of another person. I wouldn't risk trying to flip it alone.

The dining table

Love it! It has a stand out "Look at me" look. It's sturdy, stylish, modern, and in my case the maple wood really brightens up a room. And the wood just feels incredible. I sometimes find myself just placing the palm of my hand on it and just circling it a few times. It is the nicest dining table I've ever owned, hands down, and that's even before accounting for the gaming features. And one last thought on this: it looks so much better in person than in the pictures! And I think it looks pretty great in pictures, so that's saying something.

Most who have used mine say the height is a bit taller than they would like (on the lowest setting), but I actually really love the height. My arms go on it very comfortably, and it shortens the distance the fork has to travel between the food and my mouth 😂 also when I place my iPad on it to watch something I don't have to bend my neck downwards much which is very comfortable. I am 5 ft 9 in, pretty average height.

The gaming table

Table size (I ordered the large one):
It's a nice big table. My wife says it's too big, but she's not in this group so I can say she's wrong wrong wrong. It's just right!

Vault size – height:
Perfect. No comments other than that.

Vault size – length / width:

I'll start by saying that if the vault were any larger, this table would be too ridiculously big when you add space for the drawers, so I totally understand why Rathskellers didn't go any larger.

This one I'm a little conflicted by because the vault is smaller than my old table widthwise by 13cm. So for very large games with large player boards you'll likely have to play with the player boards in front of you but staggered to the side of the main board, rather than directly in front of you. I know many are already used to this, but those with large tables are probably not. I know you can remove the vault but I don't see myself ever doing that. It kind of defeats the purpose of the gaming table and it's a bit of work. And you can easily just play on the dining top if you really really need the full table. Another solution is to play using the player stations so you can take advantage of the edge of the table without removing the vault, but those cushions are so darn nice 😭😂 you're going to miss them if you take this route. And just to reiterate this is only a thing with a small percentage of ridiculously large games. I just so happened to play one of those during my first game session.

Playmats:

I love the cloth mats! I prefer them so much more than the neoprene. I'm not even sure I'll ever get around to using the neoprene anymore 😂

I love how card games feel on the mat. I had a poker night recently with my not so gamer friends, and it was so much nicer playing on a mat. The cards were super easy to pick up, and we didn't have to worry about throwing the chips around and waking my daughter.

I also love how I can just stack my double sided mat on top of the single one, rather than have to find some place to store it. I actually really like the extra padding provided by stacking them.

Also, I know some people hated the vignette effect. It doesn't bother me at all. I actually think it's much better than having just a flat solid color. At least the way I imagine that looking in my head.

The Accessories

The under table dining leaf holders:

These shouldn't even be optional. They are absolutely necessary and they hold the leaves perfectly. I am of average height (5ft 9in) and have full mobility of my legs / knees below the table without bumping anything. The curvature of the leaf holders is so perfect. You have plenty of room to slide the leaves down there without having to worry about being super precise.

Toppers:

They wiggle slightly. But it honestly doesn't bother me enough to go out and foam tape every single one of them. If Rathskellers offered some sort of rubber lining I could easily place below each topper I'd definitely buy it though.

Cushions + Cushion / Cupholder combo:

These are nice. Too nice. So nice you are going to likely neglect all the other accessories you spent a lot of money on and bought storage boxes for. I can't see myself not wanting the cushion, or cup holders ever. I've used the other toppers to experiment with, but I always feel like I miss the cushions. They could be thicker though in my opinion. If you lean very hard you will feel the hard wood below them. I got the jumbo cup holders and those hold everything! Even a can of pringles chips 🤠

If you are hesitant to buy this table because the accessories make it so much more expensive, just get the cushion / cup holder combo and you really aren't missing out much at all by ignoring the other accessories.

4 Resource slots / card holder topper:

It's nice to have the slots so you don't have to bend your neck way down to see your resources in the vault. But really only if the drawer / topper fits on the inside of the vault for this guy, because I gotta have my cushion! The card holder is great, but it does bring up a unique problem where it hides your resources. In most games resources are public knowledge, and I prefer being able to sneakily observe my opponent's resources when needed, rather than asking them and having them now know I'm tracking that for some reason.

Cardholder / Pen? Slot Topper:

Love the idea of this for a game with an overwhelming amount of cards. Can't think of one right now, but I'm ready when it comes up! Not sure what I'd put in the pen slot, or if it even is a pen slot, but I'm sure I'll find a use for it.

Player stations:

Had a bit of a big problem (I already emailed Rathskellers about) with these. I have an iPhone X, which is the same as the iPhone XS / XR / 11/ and 12 (the most recent in the iPhone lineup). These are among the most popular phones in the world. But 2 of the player stations don't hold it at all (falls right off), one holds it flimsily (will fall if the screen is tapped), and only one holds it very sturdy. Rathskeller's response to my email was super nice, and I am pretty sure we will get this resolved. I'm going on the assumption that the station that held the phone sturdily was the correct one, given the popularity of this exact phone model.

Did anyone else have this problem? Also no need to freak out anyone, I'm sure by the time you get your table this won't be a problem.

Other than that. I love the player stations! They are great for Gloomhaven, or in the case where you want to take advantage of the space along the edge of the table without removing the vault.

The drawers:

I really like the drawer idea. I don't have anything in them because I have a toddler and they are very easy to pull out. But when she is older I definitely see myself leaving plenty of accessories in there like dice / poker chips / cards / etc. For now it's been a nice place to store my phone to avoid distractions during game night, or even place some keys or a wallet in if they are bothering you in your pocket.

Topper storage box:

Highly recommended if you bought extra topper accessories beyond the cushions. I store the cushion in the table for easy setup, but all the extras go in the storage boxes, I bought 2 of them, don't know where I'd keep all these toppers without these boxes. I'm going to limit myself to just 2 of these boxes because they are pretty huge, I think I can live with just 14 overflow topper storage slots. One thing I will say is that I don't have anywhere to put my player stations since they don't fit in these, so they are just sitting in the cardboard box they came in.

Saving a game to finish later

My very first game night using this table, the clock started running a little late. My friends and I faced a choice. Call the game winner at the current state, or just scrap it. Except we were playing in a freaking board game table! So we just propped the dining toppers on and finished it the next night! Such a foreign concept to us that we almost forgot it was now an option with this new table. And it was amazing! In 2 ways. 1 we actually got to complete the game, and 2 we likely wouldn't have gotten together the next night if we would have scrapped the game. It gave us a reason to get together again a second night in a row and enjoy each other's company.

Toddler friendliness

My biggest worry about getting this table.

The dining topper magnets are STRONG. My toddler isn't moving those.

The drawers however are pretty easy to remove, even for an almost 2 year old. Wish they were just a bit stronger, maybe one more magnet. I've obviously taught her not to touch these, and she has done a great job following those instructions, but kids will try to get away with things when you are not looking. She likes to throw legos into the drawer holes when no one is looking too 😂 I'm just worried one day she'll throw some kind of very messy food in there and ruin one, but I'm like a hawk when she is near the table so I think I'm safe.

The edges aren't sharp at all so that's a nice bonus too.

Overall it's pretty kid friendly. The fact that it's modular makes it even more kind friendly. If she somehow ruins a drawer one day or breaks one, then I just need to order 1 drawer and my table is good as new. It's pretty pet friendly too! If your dog chews one of your wooden legs up while you are away one day, then all you need to order is one leg and your table is brand new again! That's a whole lot better than having to stick with a partially ruined table, or having to replace it entirely. Pretty sweet deal in my opinion.

The experience

So I have a game table now. Is a gaming table necessary? Is a gaming table worth it?

I'd say no to necessary. You can obviously still play games. And you'll enjoy them just fine.

But I'd say absolutely yes to worth it. While you don't need it, it certainly heightens the experience. Just the fact that there is a vault and a nice cloth playing surface with cushions / cup holders all bundled in a great look / feel makes even your non gamer friends want to bust off the toppers and get a game going. The best way I can describe it is that, I didn't know it, but the table pretty much defines the ambiance of your game night. Sure I don't mind eating at McDonald's, I'm not fancy at all, that is perfectly suitable for me. But playing at this table feels like dining at a fine restaurant, where fine wines line the entire wall and everything you see is there on purpose and attention to detail has been given to everything. The table practically asks / demands to be played on, and just that tiny detail makes a world of difference.

Thank you Rathskellers for this work of art! I hope all who have received it are enjoying the experience, and to the rest of you who are still waiting, get excited, it really is as good as they say!

There's no better table and customer service around

I was concerned about buying a table produced overseas, but decided to take the plunge after meeting the Rathskellers team at a convention. They were supportive, answered all of my questions, and made themselves available through social media channels. Communicating with them has always been easy and they go above-and-beyond to help.

I'm happy to report that those fears were misplaced. I've had my table for over a year now and absolutely love it. The modularity is great and allows me to configure things quickly for different gaming situations. To anyone reading this post, I do recommend getting the larger drink holders (I have the smaller holders that fit cans and standard bottled waters). The larger holders can accommodate personal water bottles and various glasses, whereas the smaller size cannot.

Despite the minor criticism, I cannot recommend the table enough. The price is economically friendly and the table is sturdy and available for both gaming and non-gaming situations. Treat yourself and buy a Rathskellers table — you deserve it!

Amazing modular gamingtable from an equally amazing company!

March 15th 2021 (as posted on facebook):

After a day full of anticipated waiting, a lot of unboxing and then waiting for Leon (my significant other) to arrive to help put it together and put it in its place, the table is all here and set up! It is absolutely stunning and even though it does not really fit in our space very well yet (waiting for an extension to be built where it can live and breathe), we are so thrilled to have this in our home !

Rathskellers did an amazing job on this gorgeous playground, that we call a table =D Also kudos to all the magnificent packaging! Every box was lined with styrofoam and all stuff was tightly wrapped in clingfilm/separated by foam. All very secure 🙂

First game was a serene game of Tokaido (because I wanted to play something, but were also really tired ;p) and it's great to see it can fit however we would like!
Thank you Rathskellers !

Update (May 30th 2022):

It's been over a year now since this gorgeous playground arrived and we are still very much in love with it! The house extension took a little longer than expected so it has been a little tight, but we managed to make it work. We've played some great games on it and it is up for anything you throw at it (like Catapult Feud, talking about throwing things!) It has also been serving as my working desk for a long time (since working from home was the new normal with covid and all, and we did not have space for another desk). For this I made use of the GM station which worked out great. And it has also been doing great as a sewing table and I have some drawers dedicated to some sewing supplies now. The modularity is amazing, you can transform it into anything you need!

We've also been able to host some gamenights where we could enjoy some games and then easily turn it into a dining table and then right back into the game after dinner! We unfortunately have not been able to do a lot of D&D sessions (since lockdowns did not make that easy), but when we did, the GM station with all its magicalness was amazing!

Also the big player stations made it easy to keep up your player sheets and keep all your stuff close by without it being a total mess. Speaking as a DM I really loved the DM station, the lowerpart for the books and keeping stuff hidden very well, the initiative tracker worked very nicely. Using the double sided dicetower to be able to choose to show the players or not is great!

On another note; since about a week the table has moved to our new part of the house (from being in the shed for a couple months due to the construction work being done)! It now has all the breathing room it needs and we are super excited that we can start playing board games again on this beautiful unit!

I'd also like to mention that not just the table is amazing, but Rathskellers and the whole community have also been amazing ! There were a few small things that were bothering people whilst playing on the table, but both Rathskellers and the community came together to help fix these issues (and now the new tables won't have these issues any more!) For example the L&M babystops were a design from Leon to prevent the drawers from being pushed off the edges. It was really nice being part of the community and contributing in a small way Now everybody that gets a new Sunnygeeks automatically also gets these babystops!

And also all the love and kudos to Ratshkellers; you can contact them about anything and they will be right on it! Such a great company with great customer service and amazing people (that you can also have a good laugh with on discord e.g. ;P).

I could go on and on about how great this table is, but the point is that it just is. The modularity is definitely its greatest feature and I can't wait what the future might bring for this table (the new campaign is already going to be epic!)

Once again, Thank you Rathskellers for this amazing modular beast and also the great community that we get to be a part of! !

Merel &Leon

The best gaming table in the world

I had been looking for a long time for a table that could be used for board games and role-playing games and it was impossible because none of them was prepared for both. Until Rathskellers came along with the Sunnygeek.
Since I got it, our gaming experience has gone up many levels, especially for RPGs.

I love the reaction of people that come to our house for the first time and see the table, not only because of the amount of accessories it has, but also because of how beautiful and well made it is.

Without a doubt, getting it is the best decision I have made in the last few years.
Be

the

first

to

join

the

next

Kickstarter

campaign

of

the

Sunnygeeks!