Current Fulfillment Progress
Track the progress of the fulfillment of the first Kickstarter campaign!
Pre-backers
Backers of the secret pre-Kickstarter are already enjoying their new table!
Wave 1 Europe
This batch of the campaign makes up more than 35% of all orders!
Wave 1 International
This batch will begin shipment as soon as European Wave 1 fulfillment is done!
Wave 2 Europe
Wave 2 coming soon...
Wave 2 International
Wave 2 coming soon...
Shipped : 2805 | 2986 | 2781 | 3013 | 2942 | 2986 | 2897
Just Shipped : 3139 | 3104 | 2914 | 2921 | 2909
Shipping next : 3208 | 3242 | 3117 | 3167
Expected Shipping Date : 29 / 10 / 2021
OUR MODULAR & AFFORDABLE TABLE WILL BE BACK FOR A 2ND CAMPAIGN
BECOME A PRE-BACKER & GET EARLY ACCESS
PRE-ORDER BELOW
Putting the excitement & fun back into tabletop gaming, the Sunnygeeks table is designed from the ground up to offer affordable quality without compromise. The latest in innovative gaming design. A truly modular magnetic table, perfect for all types of gaming while still acting as a modern dining table.
Handmade with 🧡 in Greece
MARVELLOUS MAGNETIC MODULAR DESIGN
Featuring more than 70 magnets, over 15 accessories that snap into the table drawers & a wealth of extras to add value to each session.
UNPARALLELED PERSPECTIVES
Available in three main colors, with over 12 combinations or Metal & Wood, our deep, recessed playing surface has enough room for any game, complete with a covering of your choice.
ADVANCED CUSTOMIZATION
A tremendous amount of extras with 150+ available setup configurations, this is one of our most feature packed tables yet. From casual games to an epic twilight imperium session, or the perfect d&D night and beyond.
HARD-WEARING RATHSKELLERS QUALITY
Keep your games safe, your drinks off the board and focus on the game.
WATER-RESISTANT TOPPERS
The elegant leaves of your table can protect your game from the elements above. If you're enjoying a fine meal, the water-resistant cover will keep your game safe from harm, so you can pick up where you left off. Just wipe any spillages away and you're good to go!
STORAGE OPTIONS
Table leaves (along with the advanced dm station HQ) can be stored beneath the table. All our toppers can be safely housed in a unique storage box, which provides protection and easy storage for the most spatially challenged of homes.
ONE DRAWER TO RULE THEM ALL
The only table allowing you to swap accessories with ease, changing its layout depending on the game, desired functionality & number of players. Each of our toppers snaps into the magnetic drawers, making your table unique & future-proof.
SO YOU CAN ALWAYS HAVE THE RIGHT ACCESSORY FOR THE RIGHT OCCASION
Magnetic & Modular GM station
3 designated spots for your notes
2 jumbo brass cup holders
Plexi screen for wet erase markers
Sliding slots for screens or notes
Ample space for all of your books
Metallic spheres for holding notes
Dm screen with magnets for note taking / display
Plexi Sheets for taking notes
Double Sided Dice Tower : Dm & Player rolls
Suede Microfibre tray for dice rolls
Cup holder for your drinks
Ample space for all your campaign books & notes
Suede Microfibre miniature compartment
Cup holder for your drinks or pencils, markers and stuff.
Main GM reclined area for your tablet, books and plexi sheets.
If you are a long-standing role-player, the SunnyGeeks table is built with you in mind.
The modular design includes options to control and change your DM's playground, giving them a dedicated screen, a spot to display materials, and nameplates to track your location. A range of modular extras that let each player customize their space are also available as add-ons.
Of course, there are the elements that are intangible.
Using the SunnyGeeks lets you realize your fantasy world with markers and names and ensure that the table is configured as you need. With a magnetic backing, your DM screen can help keep track of plot points. The dice tower provides another element of theatricality to your play – with our nameplates doubling as a 'stage door' to let your most fearsome miniatures come out to play.
Whether you're a verbose bard, a min-maxing dungeon crawler, or something in between – the SunnyGeeks table is designed to let you tell tall tales your own way.
This can help create a shared space for communal storytelling. Or a foreboding fortress where you take on the DM. Or if you want to switch up your session you can add mixed media, messaging secrets, and more. We have you covered.
Engineered using Rathskellers Tri-Blend ! A selection of aircraft-graded Birch Plywood (AA superior quality), in cross graining to provide dimensional stability all over the table surface, reduce warping and eliminate expansion and shrinkage due weather conditions, Maple & Beech hardwoods (for looks, strength and graining details), & pressed metal for stability, strength and consistency across all directions. Our Water based two part catalyzed conversion varnish applied to the wood and stain, ensures durability and results in smooth surfaces.
YOUR UNIQUE WOOD + METAL + MAT COLOR COMBO
From three wood stains, Maple, Cherry and Walnut, two metal colors, Black and White, and four Mat/Cushion Colors, Burgundy, Petrol, Grey and Royal Blue, your combo will be truly yours.

12 AVAILABLE COLOR COMBOS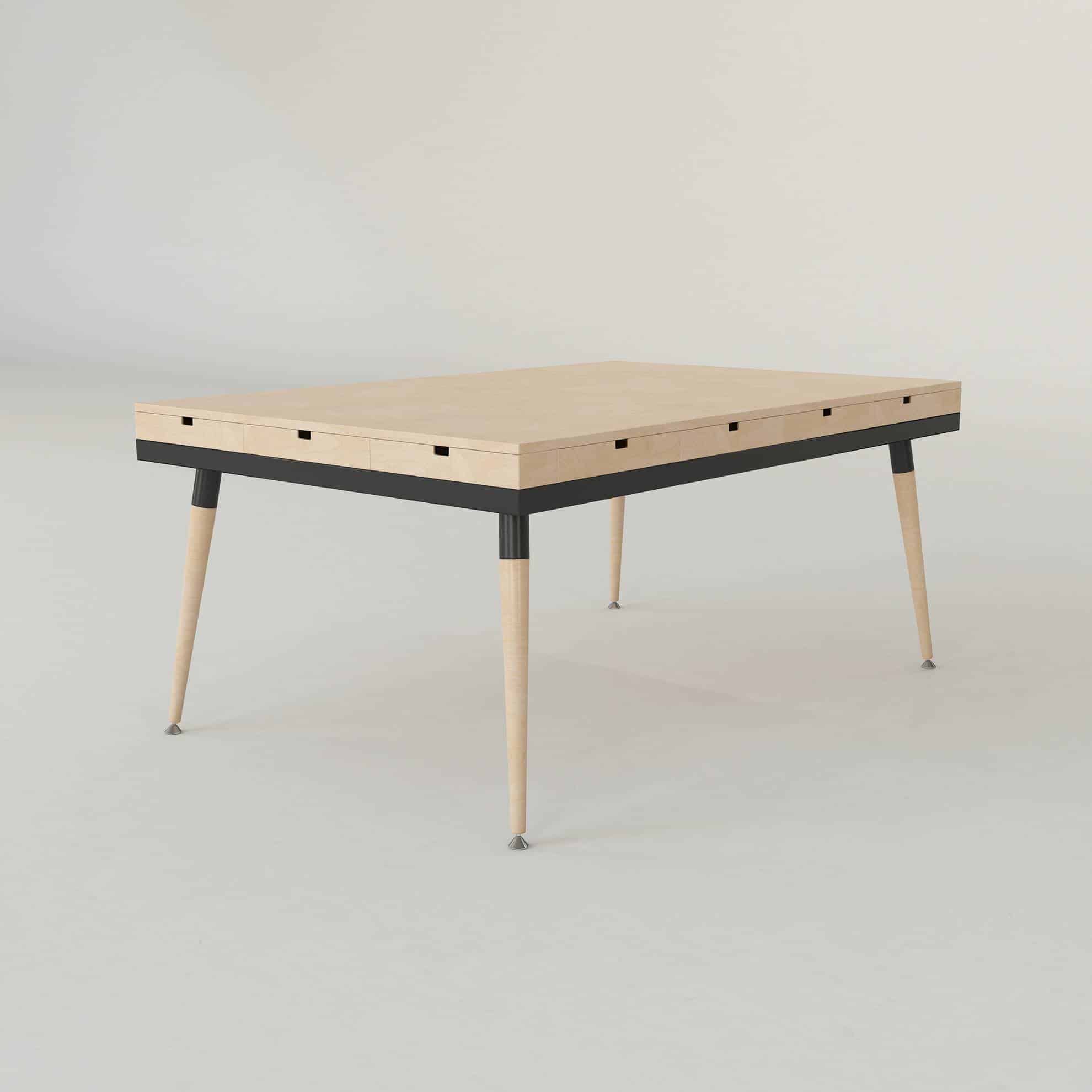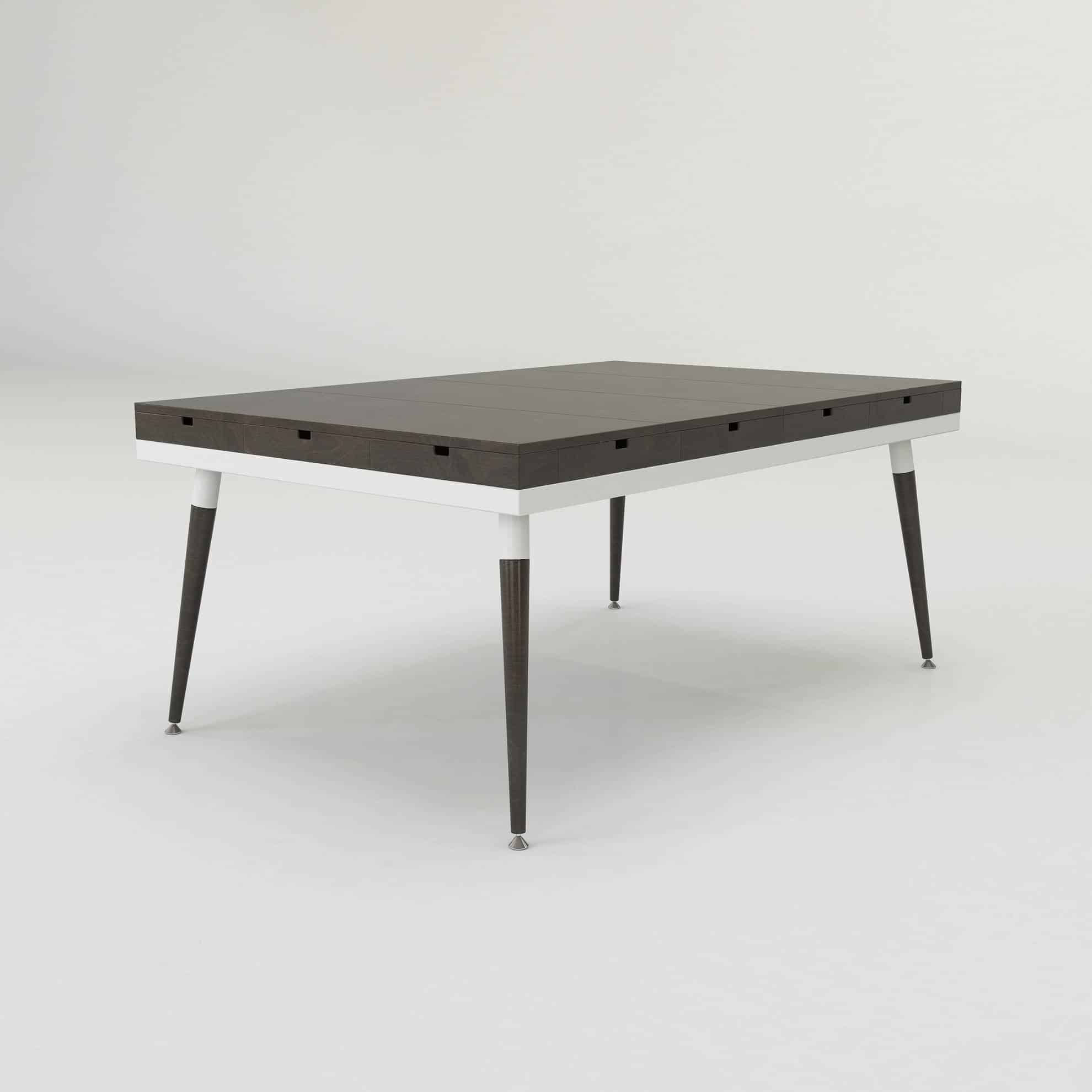 Here you can find answers to a selection of questions.
General information about the dimensions of the table, extras & accessories.
6-8+ Players
Inner (Game Cellar Play area) : 154.4 x 92.4cm
Outer : 182x120cm
Height with Dining Leaves on : 81cm
Height with Dining Leaves off : 79cm
Leg Clearance : 67.5cm
Cellar Depth : 6.5cm
4-6 Players
Inner (Game Cellar Play area) : 132.4 x 74.4cm
Outer : 160x102cm
Height with Dining Leaves on : 81cm
Height with Dining Leaves off : 79cm
Leg Clearance : 67.5cm
Cellar Depth : 6.5cm
Outer dimensions : 39.8 x 10.6cm
Inner dimensions : 38,3 x 9.5cm
Depth : 4.8cm
Cups Diameter:
Normal Cup : 6.8cm
Jumbo Cup : 9cm
Tea/Beer : 8cm
Player Desk :
39.8×24.5cm
Storage Box :
42x30x15cm
Each storage box fits 7 toppers
Player Desk :
39.8×24.5cm
Plex Sheet for DM :
24.5×15.5cm
A selection of questions we've received from our customers regarding the sunnygeeks table.
Absolutely! The SunnyGeeks is designed from the ground up to be built the way you see fit. If you want to optimise storage, player convenience, or comfort; there are several topper options available. These can be added by picking up one of our packages or by browsing our list of accessories.
Each table will be shipped securely via our partners network and arrive in predetermined number of packages based on your level of support. Once delivered, users only have to attach the legs to the structure through a fully detailed, fifteen-minute assembly process. This carries no risk of damage to the table and is simple enough for any individual to follow with ease.
Yes! We will be adding extra elements to the package as our stretch goals are completed. These will range for alternative color options, accessories, and even something truly special if our upper boundary is hit.
Yes! The table's play area is 154.4 x 92.4cm, more than enough to run the most component heavy scenarios in Gloomhaven. And as you can see from our promotional video, you can comfortably fit a beast like Twilight Imperium there too.
Yes! The trench patrol is designed to be a simple way to split your table. This can let you play two games at the same time, separate your playspace between two teams, or organize the table as you see fit.
Depending on your Location you either have VAT (taxes) or Customs charges by your local authorities.
Yes, we ship worldwide, excluding Ukraine, Russia & Brasil
Yes, all of the tables will ship with full insurance.
Everything is handcrafted and shipped from our own Workshop in Greece.  We do not outsource.
Depending on where you live. This is a EU friendly project so you won't be paying any custom fees. If you are outside of EU you will be responsible for any custom fees associated with your order. As an example customs taxes for the US can vary from 1-5% of the total depending on the state.
Backers outside of the European Union: NO VAT
European backers : Add 20% to the total price
The prices noted are exclusive of VAT. All EU customers & orders must comply with this. Since this is a Project open for backers Worldwide (US customers for example, don't have to pay the VAT) our aim is to provide a transparent pricing for all. Other companies & developers many times hide the extra cost on the product's price or in the shipping.
That would be the case if we announced a VAT included price. US Customers would pay more than they should (we would be earning a % of the sale dishonestly since we don't have to charge them for it – and it's pretty illegal to do so).
Things have been really strict in the European Union regarding the VAT. They just obligated, crowdfunding especially, for example, to mark all items as pre-orders other than investments.
As a thank you for your trust & support (and since VAT in Europe differs by country) we are billing a flat 18% for all European backers and we will be absorbing the difference from the Greek Vat (24%)
🇪🇺 EU – 330€
🇪🇺 SCHENGEN AREA – 370€*
🇺🇸 USA – 490€
🇨🇦 CANADA – 498€
🇬🇧 UK – 370€**
🌎 REST OF THE WORLD – 620€
🇬🇷 GREECE – 145€ or Free (Local Pickup with your own vehicle from our workshop in Thessaloniki)
* SCHENGEN AREA : Switzerland, Ireland, Liechtenstein, Norway, Iceland
** FOR UK BACKERS : Due to Brexit Shipping Carriers are charging a premium for Customs Clearance
The SunnyGeeks table is designed to offer maximum flexibility and choice at an affordable price point. With 2 size options, our biggest offering table's generous space weighing in with 182x120cm exterior and with a 154.4 x92.4cm play area, can house any game (even space-hungry games like Gloomhaven). This allows it to comfortably fit 8 players – using the trench patrol to partition off your space.

Combining size and functionality, the SunnyGeeks table is the biggest crowdfunded gaming table to be offered. The unit is designed to be a perfect addition to any home – with Rathskeller's extensive experience in home design making it a work of art…that you can play Memoir 44 on.

It includes the ability to add new technology such as charging stations, magnetics, and modular surfaces (our team knows the importance of having an authentic wooden surface). Each drawer easily snaps to either side of the cellar's border, making it effortless to expand or refine your playground.
Below you can find videos with the progress we are making crafting the Sunnygeeks Gaming table. For the latest updates visit our youtube channel and social media
Be the first to join the next Kickstarter campaign of the Sunnygeeks!