Sometimes you want to sit down with a great game and mull over your turns with friends and family. And sometimes you want to end up sweating through your cardigan as your loved ones catch you in a lie and...
If you're reading this, chances are that you know your tabletop gaming inside out. No matter whether you've got every expansion for Carcassonne, cleared out every quest in Gloomhaven, or are on your umpteenth game of Hive; varying your diet...
Trains. Either the steady backbone, or persistent scourge, of modern board gaming. But where do you start when you're worried about dealing with complex mechanics and, potentially, demanding, and meticulous gameplay? Defined by route building, pick-up and drop-off mechanics, and...
As essential as they are vilified, Rogues are as sneaky as they are fun to play. But while thievery, backstabbing, and stealth may work well while roleplaying… few board games let you enjoy the power fantasy of skulking around with...
While modern board gaming has been recently dominated by the rise of the escape room, creative problem-solving has always sat at the heart of our hobby. Whether it's figuring out how to slay a dragon in D&D, optimized your turns...
When it comes to wish fulfillment, there are few fantasies more potent than being a spy. Surrounded by daring, deception, and dudes that want you dead, stepping into James Bond's shoes for an evening can be a very tempting proposition....
Sometimes space comes at a premium. Whether you're struggling to find room for books, art, knick-knacks, or just looking for a little extra space – smaller proves to be better. Thankfully, boardgaming is happy to oblige. Here are eight of...
Space isn't all blasts, shooting, and lasers. But it can be if you want it to. Board gaming's love of high-tech sci-fi action makes it the perfect way to enjoy high octane space combat. From solar dogfighting, slow-moving naval battles,...
Life is good. But it could be better. For many gamers, one of the greatest joys is not only winning – but winning well. But "well" means a lot of different things. This could be with incredible efficiency. Or maybe...
Let's be honest. When it comes to your fondest gaming memories, it's often a case of 'the more the merrier'. Whether it's cramming round the table to play Dixit, squeezing in a crowd to play 7 Wonders, maxing out your...
When it comes to modern board gaming, it's pretty safe to say that we're all spoiled for choice. Whether you're a dedicated miniatures gamer, a party game fanatic, or just love following the latest Kickstarter trends, there's something out there...
Death. Everyone's favourite theme for a boardgame night. From Poirot to…ahem, Poirot. The years have shown that audiences love a bit of a murder mystery. And while there are entertaining options on our screens and books – the real magic...
Whether you're a hobbyist or creative obsessive, it's fun to bring your creative energy to the tabletop. But sometimes it's easy to feel that your options are limited. While many games encourage imaginative play, it's hard to find a choice...
By this point, any nerd that's worth his salt will have a quarantine comic backlog that could choke a horse. Whether you're keeping up with the latest offerings from the X-Team at the house of Marvel, gathering DC's innovative Black...
You like jamming? Well, you may find that pickings are slim on the ground. While some of the best boardgames are creative, few dial into the expression that music allows for. But the games that do have something truly special...
Who needs sleep anyway? One of the (literally and metaphorically) darkest joys of gaming is playing til the wee, small hours of the morning. Whether you're partying with your massive gaming group, battling against opponents across the table, or locked...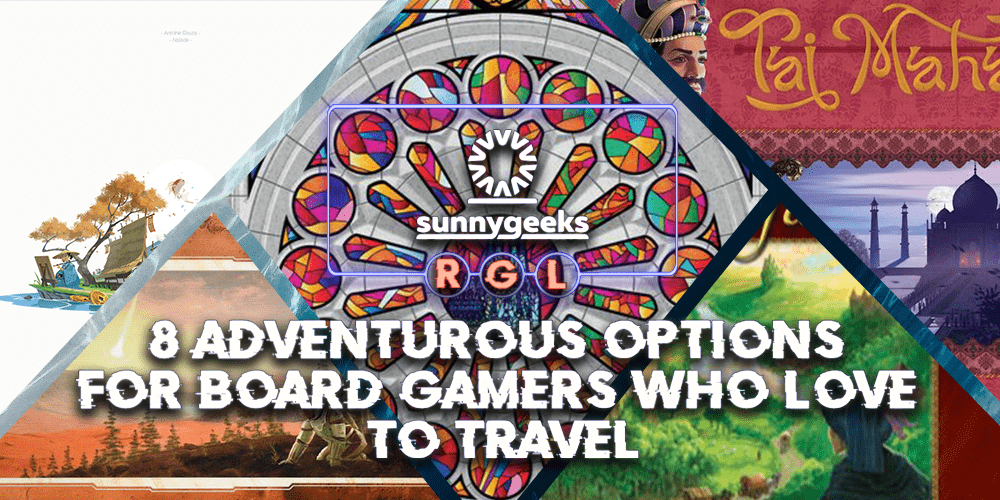 Whether you're struggling with lockdown restrictions, enjoy travel with friends and family, or just love a change of scenery – visiting somewhere new on your tabletop can be tremendously entertaining.   However, finding that 'perfect location' can feel pretty challenging. Especially...
Sometimes it's better to be a lover than a fighter. While there are a million choices for players looking to scrap, destroy worlds, or battle for supremacy – it's easy to feel that your options are limited when it comes...
Take all the wizards, warriors, and goblins you want. Sometimes you just want to sit down with a simple board game, make a cup of tea, and put your brain through the wringer. Abstract games have been with us since...
With over 60 feature-length films, the entire Marvel catalog, and Star Wars under its belt…it's pretty safe to say that Disney has the entertainment industry sown up for a generation to come. And when it comes to the world of...